THE STRATASYS
FORTUS 380MC/450MC
High Performance from Prototyping to Production Tooling
The Stratasys Fortus 380mc and 450mc production 3D printers are designed for reliable, repeatable and durable additive manufacturing. They are workhorses built for engineers and manufacturers that require the flexibility to print larger-sized or many parts in an array of engineering-grade materials with high speed and unfailing throughput. For even the most demanding projects and production runs, depend on the Stratasys Fortus 380mc and 450mc 3D printers and proven FDM 3D printing technology.
Build Strong, Accurate Tools & Prototypes
For rugged prototypes that function like your end product, manufacturing tools that deliver under pressure, and production parts built on-demand, the Fortus 380mc and 450mc 3D Printers from Stratasys set a high bar for speed, performance and accuracy. Agile enough to use 10 different engineering-grade thermoplastics and designed to be intuitive and easy to use, these production 3D printing systems will have your design teams producing complex parts more efficiently and effectively than ever before.
Explore the Stratasys Fortus 380mc & 450mc 3D Printer by watching the video 
Production-Grade Thermoplastics
Build with many of the same standard, engineering-grade and high-performance thermoplastics you use in traditional manufacturing processes.
Ease of Use
Both the 380mc and the 450mc are incredibly simple to use and maintain. Quickly teach anyone how to load materials, replace build trays and start printing. Operation is intuitive & requires no special skills.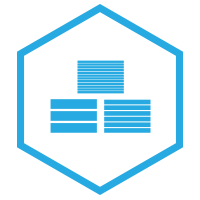 Layer Thickness Control

Choose from four layer thicknesses to print with. Attain the perfect balance between strength, detail and efficient FDM printing speeds.
Complex and High Requirement Parts
Embed circuitry, hardware, metal inserts and other non-thermoplastic materials into your parts easily and with minimal downtime.
Unattended Reliability
The latest software, hardware and high capacity material options mean your manufacturing business has the speed, agility and freedom to print for days or weeks at a time.
Advanced Additive Manufacturing
With intuitive software, monitoring controls for progress and material consumption, the Stratasys Fortus 380mc and 450mc are the factory of the future.
Fortus 380mc
Quickly build advanced prototypes and production aids in eight standard and engineering thermoplastics
There are no special facilities needed to run either the Fortus 380mc or 450mc. You can install a Fortus 3D Production System just about anywhere. No special venting is required because Fortus systems produce no noxious fumes, chemicals or waste.
Fortus 450mc
Get all the capabilities of the 380mc with a larger build envelope and the option to run high-performance thermoplastics for specialized production parts in demanding fields such as medical, aerospace, research & defence.
Produce complex, high-requirement parts faster than ever. Plus, get up to two weeks of unattended build time with high-capacity material options available on the 450mc
Software
The Fortus systems take advantage of easy-to-use yet advanced software controls enabling you to produce complex parts efficiently and effectively. Use CAD software such as GrabCAD Print to easily manage print jobs anywhere with features such as detailed reporting and remote monitoring.
Magna Closures
Automotive
Antero™ 800NA
Stratasys Antero 800NA is a PEKK-based (polyetherketoneketone) thermoplastic 3D printing material that combines both FDM design freedom and ease of use. This material holds outstanding mechanical properties, along with low outgassing characteristics of PEKK material making it ideal for use in aircraft, space and manufacturing applications.
ABS-M30
ABS-M30 is up to 25-70% stronger than standard ABS and is ideal for conceptual modeling, functional prototyping, manufacturing tools and end-use parts. Bring your product to market faster with this strong and affordable material.
ASA
Now you can build consistently high-quality parts, with exceptional UB stability and the best aesthetics of any FDM thermoplastic printing material.
Nylon 12
The first material of the Nylon family. 3D printed parts with Nylon 12 carry exceptional high resistance and elongation at break for use in aerospace, automotive & consumer industries.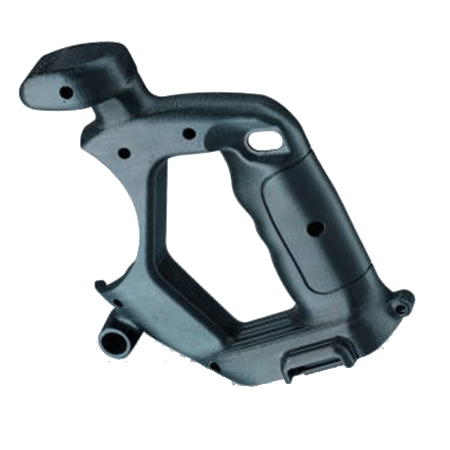 PC-ABS
PC-ABS (polycarbonate-ABS) is a tough, durable, and heat-resistant 3D printing material from Stratasys. It is a high-impact engineering thermoplastic designed to work with FDM (Fused Depostiion Modeling) 3D printing technology and perfect for producing tooling, prototypes, and end-use parts or when heat-resistance and impact strength are important.
Build Tray Size

Build Tray Size

380mc: 35.5 x 30.5 x 30.5 cm [14 x 12 x 12 in]

450mc: 40.6 x 35.5 x 40.6 cm [16 x 14 x 16 in]

Material Delivery

Material Delivery

380mc: one bay each for material & support canisters

450mc: two bays each for material & support canisters (auto changeover between canisters)

Layer Thicknesses

Layer Thicknesses

0.330 mm [0.013 in.]
0.254 mm [0.010 in.]
0.178 mm [0.007 in.]
0.127 mm [0.005 in.]

Achievable Accuracy

Achievable Accuracy

Parts are produced within an accuracy of ± .127 mm (± .005 in.) or ± .0015 mm/mm (± .0015 in/in), whichever is greater.
(Accuracy is geometry dependent. Achievable accuracy specification derived from statistical data at 95% dimensional yield.)

Material Options

Material Options

ABS-ESD7
ABS-M30
ABS- M30i
ASA
FDM Nylon 12
PC
PC-ABS
PC-ISO

450mc ONLY:
ULTEM 9085 resin
ULTEM 1010 resin
ST-130

Support Structure

Support Structure

Soluble for most materials. Break-away for PC-ISO and ULTEM. Soluble or break-away for PC

Power Requirements

Power Requirements

Fortus 380mc: 208VAC 3 phase, 50/60 Hz consumes 18 Amps

Fortus 450mc: 208VAC 3 phase, 50/60 Hz consumes 18 Amps

System Size & Weight

System Size & Weight

129.5 x 90.2 x 198.4 cm [51 x 35.5 x 78.1 in]

601 kg [1325 lbs]