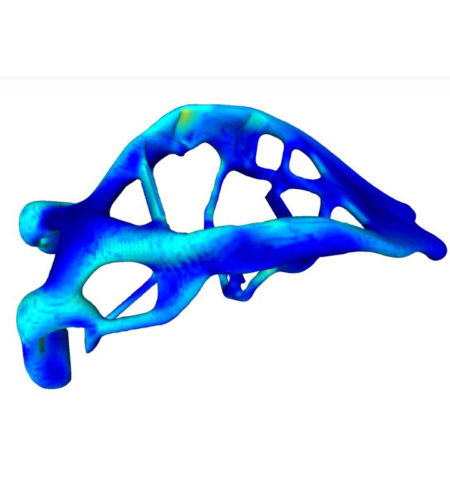 Automatically generate high performance and lightweight structures optimized for advanced manufacturing
CogniCAD by ParaMatters is an intuitive generative design and topology optimization software that optimizes parts through automated simulation based on performance and spatial requirements. With CogniCAD, you can reduce labor-intensive steps in the design process and create optimizations that would generally be impossible for a human designer. With generative design, you can achieve lightweighting, topology optimization and performance enhancements in an incredibly short period of time and ready for advanced manufacturing techniques like 3D printing.
Design the Impossible
CogniCAD is powered by a combination of superior topology optimization techniques, high-performance cloud computing, computational geometry, and artificial intelligence all working together to deliver a platform for the next generation of design. With CogniCAD you can automatically generate high-performance structures that are lightweight and optimized for advanced manufacturing techniques like additive manufacturing and investment casting, This streamline design-to-manufacturing workflow can greatly reduce design cycles and improve overall manufacturing efficiency.
Watch the video to learn more about the CogniCAD generative design workflow
Key Features
The CogniCAD generative design and topology optimization platform by Paramatters is the easiest and fastest way to
generate manufacturing-ready designs with optimized topology, weight, and function.
Engineer the Concepts of the Future Now 
Get a free demo and speak to an expert about how generative design can reinvent your design process
ParaMatters Process
ParaMatters CogniCAD offers a streamlined process that makes generative design easy and effective for even the toughest engineering and manufacturing challenges.
Step 1: Define Loads and Parameters
Once you have your design (built in any CAD software) you import it into CogniCAD and define loading conditions, choose forces, material properties, boundary conditions and design goals.
Step 2: Let the AI Generate Your Design
Once your definitions and goals are done, the AI goes to works and optimizes your design, reducing weight and creating complex structures with enhanced performance
Step 3: Review and Manufacture
Once you have finalized your design you can prepare it for an advanced manufacturing process like additive manufacturing or investment casting
Be Ready for Industry 4.0
ParaMatters Software address advanced manufacturing requirements across the product development lifecycle.
Generative Design
Paradigm shift from engineer-centric
to AI-centric design
Unparalleled resolution supporting
faster and more precise designs
Dramatically improves design
efficiency, speed to market and cost
optimization
Additive Manufacturing
CAD-ready outputs
Front-end optimized design
dramatically enhances prototyping
efficiencies
High granularity results in clean
optimized geometries that are
commercially viable
Quality Control
Ultra-high resolution analysis of CT
scanned data for quality control of
manufactured parts
Analysis of geometries across physical
parameters to more accurately
evaluate structural integrity
Digital Twinning
The only platform with sufficient
resolution and computational
efficiency to facilitate accurate digital
representations of physical objects
Capable of supporting real-time
monitoring and predictive
maintenance/failure avoidance
Paramatters

Other Solutions

Design Cycle Time

Hours
Weeks

Project Costs

< Order of Magnitude
$15,000 - $20,000

Design Quality

Superior (weight vs. performance) and 15-20% lighter than other optimized solutions with
minimal human intervention
Dependent on human capability and very human-centric

Hardware Investment

$0
Thousands $$$