Flame-Retarding Polyamide
PA 2210 FR is a white Polyamide 12 powder with a halogen-free, chemical flame retardant. In case of fire, a carbonating coating arises on the surface of the part to isolate the plastic below.
Overview
PA 3200 GF is a white, glass bead filled polyamide 12 powder, characterized by an excellent stiffness in combination with good elongation at break. This material is excellent for applications such as final parts within the engine of cars, deep-drawing dies or other uses that require stiffness, high heat distortion temperature and low abrasive wear.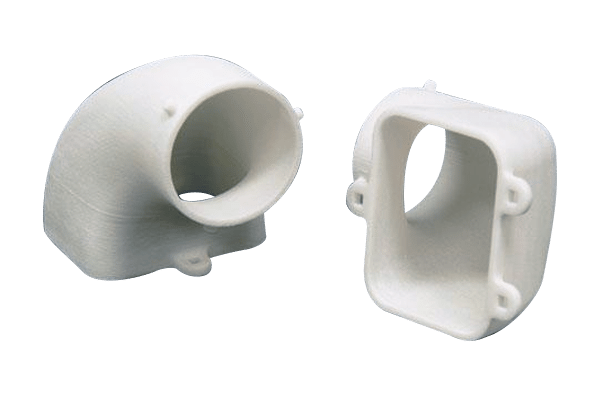 Impact
Strength Unnotched
 21000 J/m2

Heat Deflection
Temperature
176°C
Flexural
Strength
73 MPa

Tensile
Strength
51 MPa X-axis
Features
High stiffness and wear resistance
Excellent surface quality and dimensional accuracy
Improved temperature performance and thermal loadability
Uses
Stiff housings
Parts that require heavy wear and abrasion
Parts used under elevated thermal environments
Performance Scale
Material Colours
Powered By SLS
SLS is one of the most versatile and commonly used additive manufacturing technologies. Common uses of SLS-printed parts are in airplanes, wearables, machine components, and production tools.
Mechanical Properties

Test Method

Metric

U.S.

Tensile Strength
(MPa/PSI)
ASTM D638
51
7397
Tensile Modulus
(MPa/KSI)
 ASTM D638
3200
464
Elongation at Break (%)
ASTM D638
9
9
Flexural Strength
(MPa/PSI)
ASTM D790
73
10588
Flexural Modulus
(MPa/KSI)
ASTM D790
2900
421
Impact Strength
(J/m /Ft-lbs/in)
ASTM D256
21000
Hardness, Shore D
 ASTM D2240
80
80