Two-fold Opportunity. 
Customized production at scale.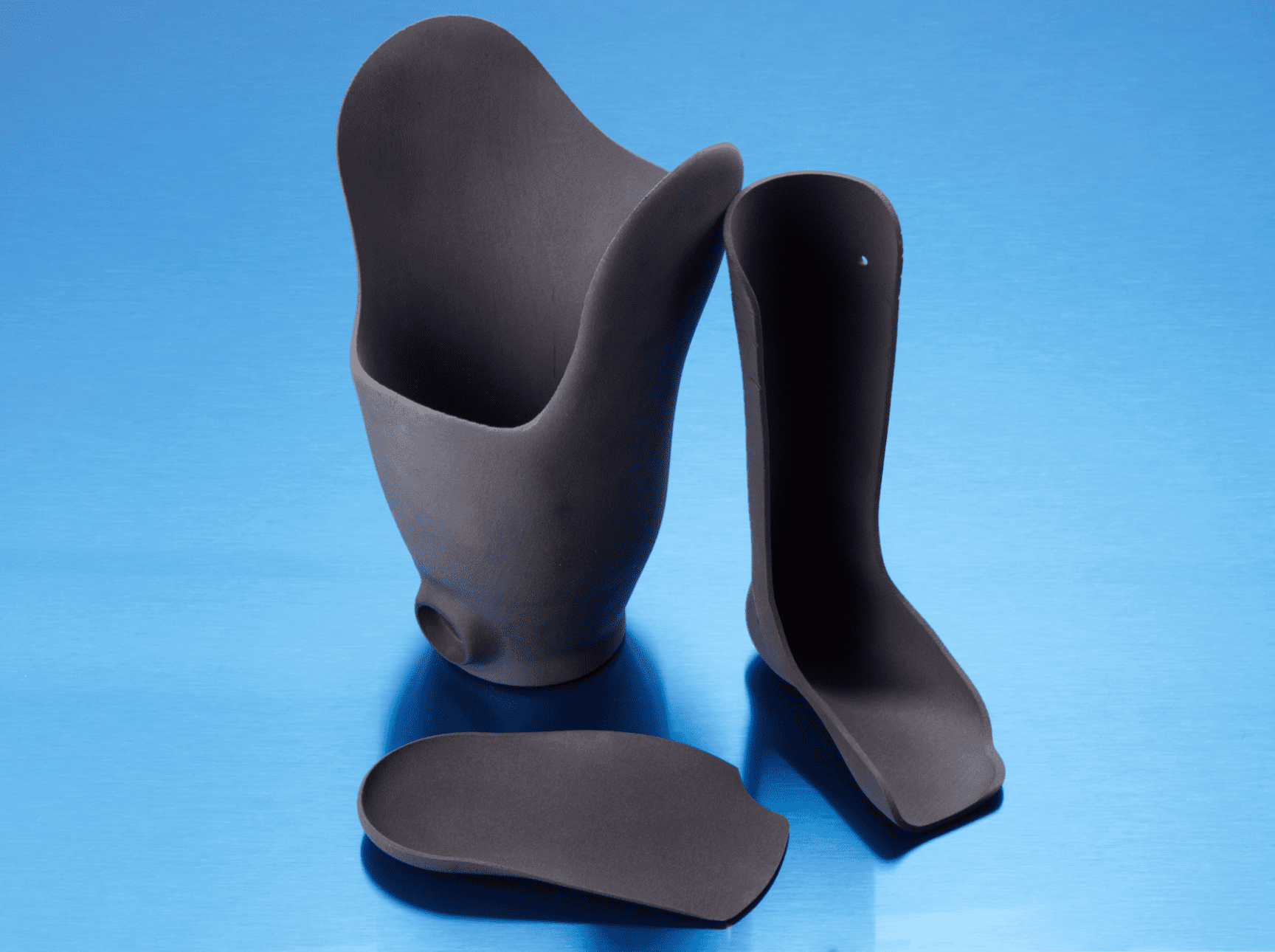 Personalize
Make Things Unique
Unique geometries on a massive scale

Mass customization
Short & Mid-production Runs
Faster & Less Waste  | Scalable & Low Risk
Improved patient outcomes with 3D-printed wearable orthotics & prosthetics.
At Proto3000, we can produce medical and prosthetic devices with fairly complex geometries that are more effective, lighter and more cosmetic. Whether you need a completely unique prosthetic or require short or mid-production runs, we can help you! 
Better for Everyone
Why produce insoles, orthotics and prosthetics with 3D printing?
Manufacturers
Reduce manual labour ♦ Consistent repeatability ♦ Higher accuracy ♦ Ease to scale.
Clinicians
Faster patient turnaround ♦ No need for plaster molds ♦ No molds shipping ♦ Less fitting adjustments.
Patients
Better fit, less bulky ♦ Lightweight & breathable devices ♦ Comfortable for daily usage 
An End-to-End Solution

From production to post-processing, we have you covered!
RAW
DYE
PAINT & OTHERS
We partner with notorious Additive Manufacturing players to ensure your parts are meticulously produced.

With every print job.
Connect

&

Consult
Our team of experts works with clinicians and medical experts to design & develop the best orthotics and prosthetics.
Design

&

Development
We then use the provided inputs and powerful industry-leading software tools & materials to help you produce innovative assistive devices.
No more conventional orthopedics!
3D Print | Manufacture
We recommend options from a range of different additive manufacturing processes and materials that meet your application requirements and performance objectives.
Inspect

&

Ship
Thanks to our technological capabilities, we can print out directly the final products. Our production team rigorously checks each part for conformity and accuracy.
Wearables and soft-touch elements

Gaskets, seals, masks, belts, plugs, and tubes

Protective sports equipment

Padding, dampers, cushions, and grippers
Soles, splints, orthotics, and prosthetics

Insoles

Knee braces

Wrist & Back supports

Collars
Materials
Based on each project, our Service Bureau can recommend the best materials on the market that withstand the required properties and functionalities. See below a list of some of the most commonly used powders in the Prosthetics and Orthotics industry.
---
Formlabs® Nylon 11
Material: Ductile, high-impact
Nylon 11 Powder is a high performance, bio-based nylon material for functional prototyping and small batch production.
Specs

Ultimate Tensile Strength: 49 MPa
Tensile Modulus: 1.6 GPa
Elongation at Break (X/Y): 40%
Flexural Strength: 55 MPa
Notched Izod: 71 J/m
Heat Deflection Temperature (HDT) @ 1.8 MPa: 46ºC
Application

For parts that need to bend or resist impact

Impact-resistant prototypes, jigs, and fixtures
Thin-walled ducts and enclosures
Snaps, clips, and hinges
Orthotics and prosthetics*
Technology/Process

SLS (Selective laser sintering)