The Final Touch
The right finish can mean the difference between a raw prototype and a product that's ready for the market. Our expert finishing services can help create visually striking prototypes that enhance the purpose and functionality of your 3D printed parts. Using our state of the art finishing techniques, such as our semi-downdraft spray booth, we take 3D printed parts and transform them into something you would be proud to put your name on.
Overview
Create visually appealing prototypes and enhance the look of your 3D printed parts with the right post-processing solutions. Our expert finishing services include:
Bonding & Gluing
Create models that exceed the size of your 3D printer's build tray, or combine printed parts together with other components
Adhesive (epoxy): Epoxy components are mixed and then applied with dispensers, brushes, or infiltration. Epoxies differ in cure durations, material properties & bond strengths but in general, are easy to use. Offering great mechanical strength, and exhibiting good temperature & chemical resistance, these adhesives offer working times of 20-70 minutes.
Adhesive (cyanoacrylate): Commonly known as super glue, cyanoacrylate is a fast-curing adhesive used for quick and easy repairs on light-duty bonding applications. With its higher tensile strength compared to epoxy, it has a lower resistance to high temperatures, chemicals, and solvents- possibly affecting the part's performance.
Solvent: this bonding method works by chemically melting the plastic surfaces and are brushed onto sections before being clamped together. Solvent is very thin and improves the strength of the repair or bond during the simple and quick process.
More methods include: hot air plastic welding, ultrasonic spot welding, and fasteners (mechanical)
Bead Blasting
An ideal solution to have great surface finishes without sandpaper, fillers, or solvents in an inexpensive and quick method.
Sanding a prototype can take hours, bead blasting an FDM part takes only a few minutes
Bead blasting preserves a part's quality as it will not distort or change its dimensional accuracy
Plastic blast media (PMB) is a recycled material made of finely reground thermoplastics and lasts longer than glass bead
Electroplating
This post-processing technique deposits a thin layer of metal on the print's surface that can be great for aesthetics & increased durability.
The metal coating gives the appearance of a production metal or metal-plated part while providing wear-resistant and reflective properties
Metal surface not only enhances the look of a part but produces a hard, durable surface & dramatically increases the strength of an FDM part
Electroplating uses alloys such as chromium, nickel, copper, silver & gold
Painting
FDM & Polyjet parts can be painted to achieve attractive functional prototypes and end-use parts.
FDM parts can be finished and painted to meet the cosmetic requirements for virtually any application
Polyjet models can be painted or decorated as soon as they are printed, without the need for preparation or polishing
Achieve true product realism for concept modeling
Dyeing
Special colour dyeing techniques can enhance the detail, colour, & creativity of your 3D printed models. Dyeing is an easy process that helps you achieve the perfect look you want. This method is preferred for those pieces that can't afford to have their size increased as painting would add an extra layer of thickness to the part. Added in the final stages of manufacturing, the parts are immersed in a heated dye solution before being removed and washed in a cleaning solution.
Sealing
We use a number of different sealing methods for FDM parts in order to take advantage of the printing technology's cost savings, design freedoms & lead time advantages. Methods include:
Smoothing Station

: Seals a part's surfaces by exposing them to a vaporized smoothing agent inside a chamber

Epoxy Coating

: This coating maintains an airtight seal  and ideal for harsh operating conditions

Epoxy Infiltration

: FDM parts are immersed in resin and a vacuum is drawn to infiltrate the epoxy into the part. Epoxy infiltration offers an airtight & watertight seal abe to withstand high temperatures and is chemically resistant

Dipping

: A substitute for the Smoothing Station when parts exceed the chamber capacity, dipping FDM parts in solvent is quick and aggressive.

Painting & Filling

: Low cost, short cycle time & ease of application brings this method can be used to reduce the porosity of FDM tooling in thermoforming
Smoothing
3D printed parts can achieve a smooth surface through sanding and other methods. A popular method is known as Vapor Smoothing, where the part is dipped into a vapor tank containing liquid and is brought to boiling until the part surface is smooth and shiny
Reintroduce FDM-printed parts to applications where surface texture is as important as part functionality
Allow your part to be widely used in consumer, prototype, and medical applications
Smoothing does not significantly affect part accuracy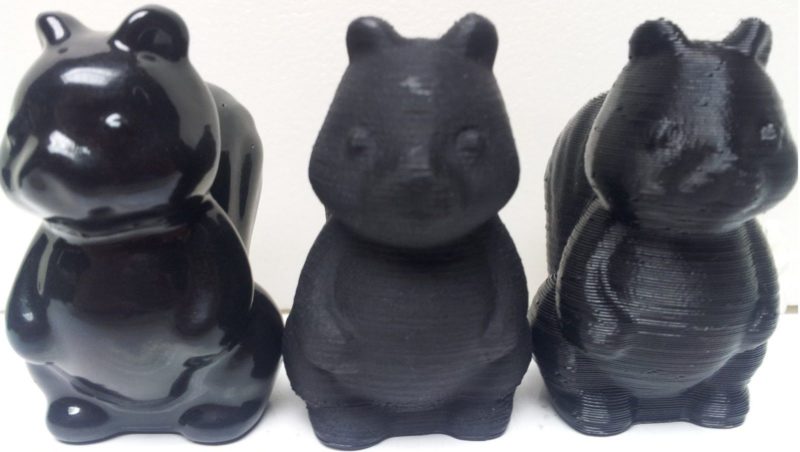 Support Removal
Support structures on your 3D printed parts can be easily removed. Whether you're printing on FDM or Polyjet, there are many support removal solutions that we have at our disposal to ensure that your part is exactly the way you envisioned it.
Assembly
3D printing has brought a manufacturing environment where the time it takes to assemble parts is minimized. Our team will help piece together your 3D printed project so that it functions exactly the way you intended it to and more.
Sanding & Polishing
Our finishing services will help enhance the aesthetic of your FDM part while maintaining its functionality. We offer several techniques to prep and smooth the exterior and interior of your part.
Filler or primer may be applied to parts during sanding operations to deliver a smooth finish while preserving dimensional accuracy
We can also use a solvent which we used to melt the outer surface. This causes the plastic to liquefy and fill low areas on the surface