Creaform
PEEL 3

&

PEEL 3.CAD


3D SCANNERS
Handheld and Easy-to-Use 3D Scanners for a Variety of Applications
Peel 3D is a professional-grade, handheld 3D scanning solution designed for those who want quality 3D scans for an affordable price. Using white light technology, peel 3d can digitize small or large objects which can then be post-processed in Peel 3D's easy to use data processing software. With a portable design you can take Peel 3D almost anywhere and tackle a variety of 3D scanning projects. What are you waiting for? Start digitizing.
Peel 3D in Action.
Affordable and accessible 3D scanning is finally here. Now anyone can 3D scan like a pro with the new handheld white light 3D scanner from Peel 3D. Point and shoot, you can scan on the go without breaking the bank or requiring expensive and rigid photogrammetry setups.
Watch the video to learn more about the Peel 3D
Peel 3 Models
Take advantage of the new redesigned, rethought and revamped Peel 3 scanners with powerful performance and capabilities such as:
High-fidelity objects
Digital archiving
Human anatomy
Orthotics and prosthetics
Converts handmade objects to digital
Peel 3 
peel 3 can handle any application in aftermarket & tuning, AR, VR & digital content, education, heritage preservation and art, product design, healthcare, and MRO and engineering.
Peel 3.CAD
Peel 3.CAD is dedicated explicitly to reverse engineering. 
Just Point & Scan
Thanks to pell 3's triangulated and multi-grip handle, you can easily manoeuvre it around any object, even narrow and hard-to-reach places.
Finalize Mesh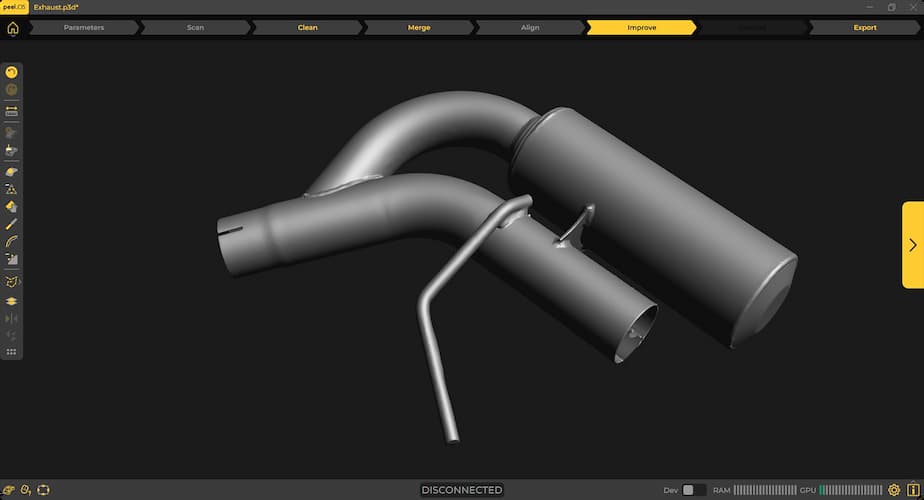 peel 3D and peel 3.CAD have an integrated 3D scanning software to optimize and finalize your meshes for 3D printing or further adjustments in CAD.
Export File
Export your data to any other CAD platform or reverse engineering software using standard formats such as .iges, .setp, .dxf.
What Can You 3D Scan?
The Peel 3D scanners can handle various surfaces, materials, and human-body forms:
Metal Castings
Clay Models
Ceramic & Porcelain
Plastics
Painted Parts
Stone & Masonry
Sculptures
Fabric & Leather
Human Forms
Organic Shapes
Great Scans at an Affordable Price
Ultra-ergonomic handle
peel 3's unique multi-grip triangulated handle has been designed to be comfortable in most common 3D scanning positions.
Slick LCD screen
This multi-function and intuitive touchscreen give you a brand-new way to interact with your peel 3d scanner. It can also be used as a distance meter to quickly scan without looking at your computer.
Feel the difference with haptic communication
A world premiere for handheld 3D scanners, peel 3 features several recognizable vibration patterns to guide you as you scan narrow and hard-to-reach places without a direct line of sight. That's real-time feedback at its best!
What Should You Avoid?
You should be aware of these limitations when working with white light scanners.
Translucent, Pitch Black Mirrored Finishes
Putting a bit of spray powder will help scan these surfaces
Objects too Small or too Big
It's best to stay within the recommended part size range of 0.3-3.0m [1-10 ft.]
Highly Intricate Objects
Thin walls and features are difficult to capture
Hair & Fur
It simply does not work, it's best to avoid these
Applications
The Peel 3D scanner is a versatile tool that can apply to various applications and projects. Be sure to speak with one of the 3D scanning and metrology experts to see what solution would be right for you.
Aftermarket & Tuning

EV Conversions
High-performance parts
Racing modifications
Component retrofits
Vehicle conversions

MRO & Reverse Engineering

Reverse Engineering Processes
Mold and cast design
Repairs
On-demand spare parts
Safety and personal protection equipment (PPE)

AR, VR & Digital Content

Item-based NFTs
Custom training and maintenance material
High-fidelity projects
Custom-made furniture
SFX & movie production
Healthcare

Orthotics and prosthetics
Plastic/esthetic surgery
Mobility assistance
Cranial scanning
Compression garments

Product Design

Design from existing objects
Modelling of existing components
Convert handmade models to digital versions
FEA & CFD

Education

Fab lab equipment
Teaching equipment
Research projects

Heritage Preservation Art

Digital archiving
Restoration projects
Scale modifications
Human anatomy
Duplication of objects for research
Powerful Post-Processing Software
The Peel 3D scanner comes with intuitive and easy-to-use post-processing software making it simple for users to clean-up and works with their acquired data. Packed with premium features typically found in premium software solutions, Peel 3D provides you with full control to get the 3D scans you need.
Clean Up
The clean-up features in the software allow you to eliminate areas of the scan that you don't want or don't belong. You can isolate the specific data you need and remove any noise
Improve
With the improved features of the software, you can simplify your model and optimize your scan so it is exactly what you require. Easily get rid of spikes, deviations, or imperfections
Align
Peel 3D software provides the tools needed to manually or automatically align your scan to a coordinate system using geometrical features
Export
Simply send your scans to other 3D design or reverse engineering softwares, or directly to a 3D printer with a wide selection of export formats
Not Sure Which Scanner is Right For You?
If you want to speak to an expert today – CALL 1-888-88-77686
Software

Software

peel.OS, peel.CAD*

*with peel 3.CAD only

Recommended object size

Recommended object size

0.1 - 3.0 m

Accuracy

Accuracy

0.250 mm/m, up to 0.1 mm

Scan speed

Scan speed

80 sec/m2

Usage distance (from object)

Usage distance (from object)

250 to 550 mm

Projector light source

Projector light source

IR VCSEL

Scanner controls

Scanner controls

Touchscreen

Colour resolution (on object)

Colour resolution (on object)

250 DPI

Dimensions

Dimensions

304 x 150 x 79 mm

Weight

Weight

950 gr.

Dimensions

Dimensions

304 x 150 x 79 mm

Connectivity

Connectivity

USB 3.0

Output Formats

Output Formats

.dae, .fbx, .ma, .obj, .ply, .stl, .txt, .wrl, .x3d, .x3dz, .zpr, .dxf, .iges*, .step*
Recommended System Requirements
Processor

Processor

Intel Core i7 (8 cores) – 2.5 GHz or more

Operating System

Operating System

Windows 10* (64 bits)

*Windows 10 version 1909 or higher.
.NET Microsoft Framework version: 4.7.2

Graphics Card

Graphics Card

NVIDIA Quadro RTX 3070 (8 GB VRAM) OpenGL 4.5 and higher

Memory

Memory

32 GB (minimum), 64GB (recommended)

Storage

Storage

32 GB

Hard Drive

Hard Drive

512 GB SSD

Display

Display

1920 X 1080

Connecting Ports

Connecting Ports

2x USB 3.0+