MetraSCAN Optical CMM 3D Scanner
CREAFORM
METRASCAN OPTICAL CMM 3D SCANNER
The most flexible portable 3D measurement solution engineered for shop floor conditions
With its extendable measuring volume, high speed, shop-floor accuracy and impressive capabilities on challenging materials, the MetraSCAN optical CMM 3D scanner represents the most complete and dynamic metrology-grade 3D scanner on the market.
The Most Dynamic Portable Metrology Solution
With the new MetraSCAN 3D scanner, unexpected costs as well as production and approval delays are a thing of the past. Easily handle reverse engineering and inspection of tools, jigs, fixtures, assemblies or even final products from 1 to 3.5 m (3.3 to 11.5 ft.) with an accuracy of up to 0.064 mm (0.0025 in.).
Perfect for any environment, including the shop floor, the MetraSCAN 3D scanner will ensure that your quality control teams have a streamlined process that ensures parts meet even the most stringent requirements.
Explore the MetraSCAN 3D Scanner by watching the video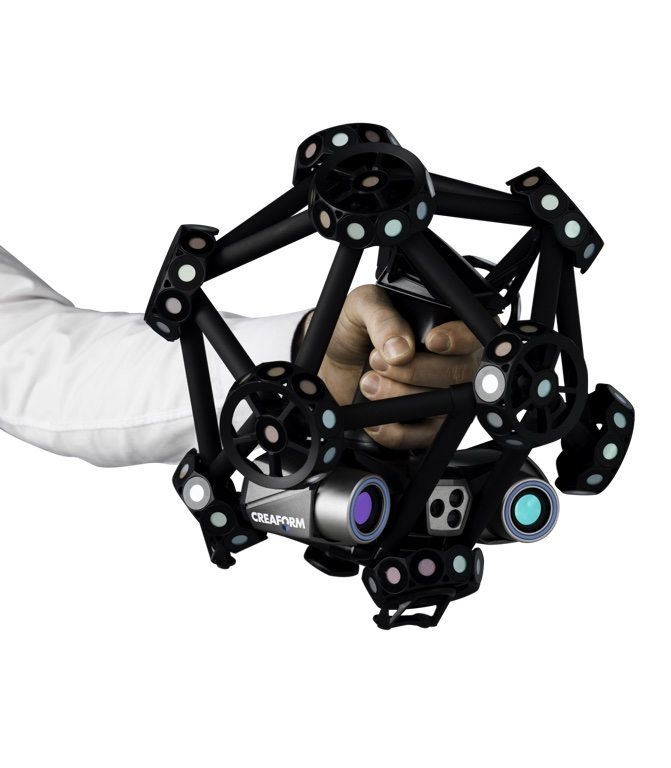 New Features
1.5x more accurate
12x faster with 7 laser crosses
25% lighter
Scan any material- black, multicoloured & shiny surfaces
Greater volume of 16.6m3 (586 ft3)
Sturdy design for shop-floor hardware reliability
Multi-function buttons for easier interaction with the software
TruAccuracy
Metrology-grade measurements: accuracy of up to 0.030 mm [0.0012 in], resolution of up to 0.050 mm [0.002 in], high repeatability and traceable certificate

Dynamic Referencing: optical reflectors are used to create a reference system that locks to the part giving users the ability to move the object any way they want during the measurement process

Volumetric accuracy of 0.064 mm [0.0025 in]

Accurate measurement of parts ranging from 0.2 to 10 meters [0.7 to 33 ft] in size

No decrease in accuracy over time with an easy-to-perform field calibration procedure
TruSimplicity
No rigid setup required as both the part and system can be moved freely at any time during measurement

Versatile 3D scanning: scan any type of colour and material- black, multicoloured & shiny surfaces

Greater and easily extendable measurement volume

Automatic alignment: optical reflectors allows for repetitive inspections without re-alignment

Optional probing capabilities by adding the HandyPROBE Next

Multi-function buttons for easier interaction with the software

Short learning curve and intuitive operation
TruPortability
Optimized for use on the shop floor

Lightweight: weighs under 1.38 kg [3 lbs]

Portable CMM: system can be easily brought to the part

Arm-free optical scanning system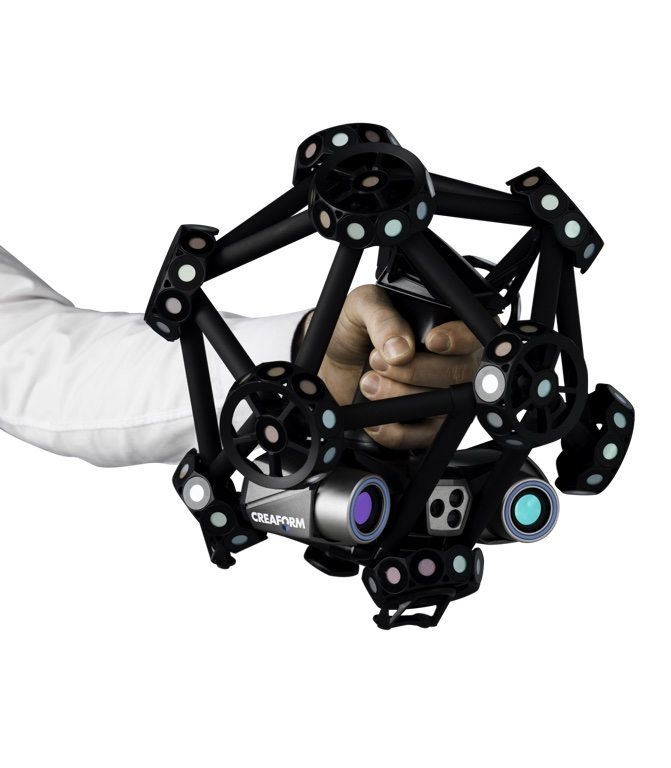 Speed
Fastest 3D Scanner on the market (12 times faster than the previous generation
Highest measurement rate among all laser scanners;480,000 measurements/s
Incredibly fast workflow with automatic mesh output and ready-to-use files right as you complete aquisition
Quick and easy setup anywhere in your facility

Inspection
Part-to-CAD analysis
First article inspection
Supplier product quality inspection
Conformity assessment of 3D models against original parts or production tooling
Conformity assessment of manufactured parts against originals
Alignment
​Tooling certification

Reverse Engineering
3D Scan-to-CAD
3D Modeling
Tooling and Jig Development
Maintenance, Repair, and Overhaul (MRO)
Finite Element Analysis
GD&T
VXelements: Creaform's 3D Software Platform and Application Suite
The MetraSCAN 3D comes with VXelements which powers our entire fleet of 3D scanning and measurement technologies. It combines all the essential tools you need for your data acquisition process into a user-friendly, simplified and sleek working environment. Its real-time visualization capabilities provide a simple, yet efficient 3D scanning experience for enhanced on-site productivity.
Specifications
MetraSCAN 750 & MetraSCAN 750 Elite Optical CMM 3D Scanners
MetraSCAN 750™

MetraSCAN 750™​ ELITE

Accuracy

Up to 0.030 mm (0.0012 in.)
Up to 0.030 mm (0.0012 in.)

Volumetric Accuracy - 9.1 m3 (320 ft3)

0.086 mm
(0.0034 in.)
0.064 mm
(0.0025 in.)

Volumetric Accuracy - 16.6 m3 (586 ft3)

0.122 mm
(0.0048 in.)
0.078 mm
(0.0031 in.)

Volumetric Accuracy with MaxSHOT Next

0.060 mm + 0.025 mm/m
(0.0024 in + 0.0003 in/ft)
0.044 mm + 0.025 mm/m
(0.0017 in + 0.0003 in/ft)

Volumetric Accuracy with MaxSHOT Next Elite

0.060 mm + 0.015 mm/m
(0.0024 in + 0.00018 in/ft)
0.044 mm + 0.015 mm/m
(0.0017 in + 0.00018 in/ft)

Resolution

0.050 mm (0.0020 in.)
0.050 mm (0.0020 in.)

Measurement Rate

480,000 measurements/s
480,000 measurements/s

Part Size Range (recommended)

0.2–6 m (0.7–20 ft.)
0.2–6 m (0.7–20 ft.)

Stand-off Distance

300 mm (11.8 in.)
300 mm (11.8 in.)

Depth-of-Field

200 mm (7.9 in.)
200 mm (7.9 in.)

Scanning Area

275 x 250 mm (10.8 x 9.8 in.)
275 x 250 mm (10.8 x 9.8 in.)

Light Source

7 laser crosses (+ 1 extra line)
7 laser crosses (+ 1 extra line)

Laser Class

2M (eye-safe)
2M (eye-safe)

Weight

1.38 kg (3.0 lbs.)
1.38 kg (3.0 lbs.)

Dimensions

289 x 235 x 296 mm (11.4 x 9.3 x 11.7 in.)
289 x 235 x 296 mm (11.4 x 9.3 x 11.7 in.)

Connection

1 x USB 3.0
1 x USB 3.0

Software

VXelements™
VXelements™

Output Formats

.dae, .fbx, .ma, .obj, .ply, .stl, .txt, .wrl, .x3d, .x3dz, .zpr
.dae, .fbx, .ma, .obj, .ply, .stl, .txt, .wrl, .x3d, .x3dz, .zpr

Operating Temperature Range

5–40°C (41–104°F)
5–40°C (41–104°F)

Operating Humidity Range

10–90%
10–90%

Certifications

EC Compliance (Electromagnetic Compatibility Directive, Low Voltage Directive, RoHS 2 Substance Restrictions Directive), IP50, WEE
EC Compliance (Electromagnetic Compatibility Directive, Low Voltage Directive, RoHS 2 Substance Restrictions Directive), IP50, WEE
MetraSCAN 350 & MetraSCAN 350 Elite Optical CMM 3D Scanners
MetraSCAN 350

MetraSCAN 350 Elite

Accuracy

Up to 0.040 mm (0.0016 in.)
Up to 0.040 mm (0.0016 in.)

Volumetric Accuracy 9.1 m3 (320 ft3)

0.086 mm
(0.0034 in.)
0.064 mm
(0.0025 in.)

Volumetric Accuracy 16.6 m3 (586 ft3)

0.122 mm
(0.0048 in.)
0.078 mm
(0.0031 in.)

Volumetric Accuracy MaxSHOT Next™

0.060 mm + 0.025 mm/m
(0.0024 in + 0.0003 in/ft)
0.044 mm + 0.025 mm/m
(0.0017 in + 0.0003 in/ft)

Volumetric Accuracy MaxSHOT Next™ Elite

0.060 mm + 0.015 mm/m
(0.0024 in + 0.00018 in/ft)
0.044 mm + 0.015 mm/m
(0.0017 in + 0.00018 in/ft)

Resolution

0.050 mm (0.0020 in.)
0.050 mm (0.0020 in.)

Measurement Rate

205,000 measurements/s
205,000 measurements/s

Part Size Range (recommended)

0.2–6 m (0.7–20 ft.)
0.2–6 m (0.7–20 ft.)

Stand-off Distance

300 mm (11.8 in.)
300 mm (11.8 in.)

Depth-of-field

200 mm (7.9 in.)
200 mm (7.9 in.)

Scanning Area

225 x 250 mm (8.8 x 9.8 in.)
225 x 250 mm (8.8 x 9.8 in.)

Light Source

3 laser crosses
3 laser crosses

Laser Class

2M (eye-safe)
2M (eye-safe)

Weight

1.38 kg (3.0 lbs.)
1.38 kg (3.0 lbs.)

Dimensions

289 x 235 x 296 mm (11.4 x 9.3 x 11.7 in.)
289 x 235 x 296 mm (11.4 x 9.3 x 11.7 in.)

Connection Standard

1 x USB 3.0
1 x USB 3.0

Software

VXelements™
VXelements™

Output Formats

.dae, .fbx, .ma, .obj, .ply, .stl, .txt, .wrl, .x3d, .x3dz, .zpr
.dae, .fbx, .ma, .obj, .ply, .stl, .txt, .wrl, .x3d, .x3dz, .zpr

Operating Temperature Range

5–40°C (41–104°F)
5–40°C (41–104°F)

Operating Humidity Range

10–90%
10–90%

Certifications

EC Compliance (Electromagnetic Compatibility Directive, Low Voltage Directive, RoHS 2 Substance Restrictions Directive), IP50, WEE
EC Compliance (Electromagnetic Compatibility Directive, Low Voltage Directive, RoHS 2 Substance Restrictions Directive), IP50, WEE