Multi Jet Fusion 3D Printing Technology
Multi Jet Fusion is a 3D printing technology that allows for more possibilities when it comes to complex, lower-cost parts. Ideal for both produciton of single parts or large prints consisting of multiple different parts. Multi Jet Fusion is an excellent technology for applications like thin walls, brackets, housings  clips and guids. Industries can benefit from Multi Jet Fusion higher volume capabilities through limited run, pre-production and spare parts.
Applications
The HP Multi Jet Fusion polyamide 3D printing process is perfect for applications that require strength and durability, but higher volumes. Here are some of the common applications we see
Production parts and low-mid volume serial production
Legacy and replacement parts
Internal, non-cosmetic housings
Thin wall ductwork
Connectors and guides
Brackets and clips
Watertight applications
Complex parts with internal cavities

Casings and covers
Grommets
Functional prototypes
Rapid Prototypes for testing and validation
Multiple iteration projects
A cost-effective option compared to injection molding
Housings and Enclosures
Jigs and fixtures
Materials
HP Multi Jet Fusion Nylon 12 PA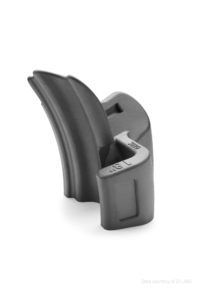 Nylon 12 PA is a robust thermoplastic 3D printing material
that produces parts with balanced property profiles and
high-density,
HP Multi Jet Fusion (MJF) Technical Specifications
Standard Lead Time

Standard Lead Time

3-5 Business Days

Part Accuracy

Part Accuracy

+/-0.200mm

Layer Resolution

Layer Resolution

0.080mm

Minimum Wall Thickness (Recommended)

Minimum Wall Thickness (Recommended)

0.3mm in XY, 0.5mm in Z
minimum feature size 0.1mm

Maximum Part Dimensions (Single Build)

Maximum Part Dimensions (Single Build)

375 x 280 x 375mm (LxWxH) (Listed build volume is 380 x 284 x 380mm)
14.7 x 11 x 14.7 inches

Available Finishes

Available Finishes

Standard finish is grey powder finish
Level 1 is painted/dyed to a black uniform finish
Sand/primer/paint is available upon request
How Does MJF Work?
Multi Jet fusion is a powder binder based technology that relies on heat, fusing agents, detailing agents, and power polyamide to build up your parts. It all starts with a 3D model and then a 5 step process.
3D Model is designed using CAD Software
A single layer of material is applied to the full working area
Fusing & detailing agents are applied across the full working area
Parts are removed from loose powder
Parts are complete