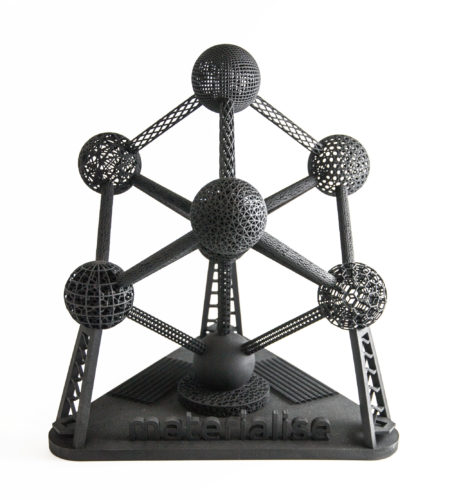 FILE PREPARATION AND OPTIMIZATION SOFTWARE
Materialise Magics
Repair, Edit, Enhance, Customize and Prepare your 3D Designs for 3D Printing
Materialise Magics is a smart and versatile data preparation software for additive manufacturing equipped with a customizable, intuitive user interface. This industry-leading software efficiently guides you through every step of your 3D printing workflow.
Get the Most out of Additive Manufacturing
Materialise Magics is an industry-leading data preparation and STL editor software for additive manufacturing that allows STL file conversion, errors repairing, design editing, and build platform preparation. With Magics and its modules, you can:
Import all data types and formats and repair and prepare files for all technologies
Optimize laser sintering and other AM processes
Simulate metal and polymer 3D prints
Create complex lattice and support structures for both polymer and metal 3D printers
Create models optimized for specific applications like investment casting
Rely on reports and measurements for quality control
Boost Productivity in 3D Printing
Materialise Magics is a technology-neutral modular solution. Whether you want to generate support for your metal or resin parts, or nest multiple parts on your laser sintering machine, Magics offers all the modules you need to print parts with the highest efficiency. It allows you to view slices, detect collisions, save platforms, and generate useful reports.
Reduce Project Lead Times
With the powerful tools in Materialise Magics you can simplify your 3D printing workflow and save time on data preparation, printing, and finishing, significantly reducing the lead time of projects.
Save Material and Reduce Waste
Smart data preparation and more efficient support structures lead to less material usage and a higher amount of successfully printed parts. Reduce your data preparation costs today.
Lightning Fast Build Preperation

Maximize your productivity by preparing and proessing build platoforms through Materialise Magics. Achieve incredibly high packing density on powder-bed fusion, and maximize build volumes with all AM Processes
Quality and On-Spec
Get every part printed right the first time, and have the reporting and quality control systems in place to be confident that your 3D printed parts meet the exacting specifications you or your client intended
Features of Materialise Magics
Import Data Types and Formats
Import almost any file formats, retain native colour information and stay in control of your original data.
Repair your STL files
Repair the most challenging errors and create watertight data. STL repair includes wall thickness analysis and fixing flipped triangles, bad edges, holes and other errors.
Prepare Your Build Platform
Materialise Magics has the tools you need to duplicate parts, orient them in an ideal way, generate support for metal and Stereolithography parts, efficiently 3D nest your laser sintering parts and create no-build zones.
Generate Reports
Materialise Magics ensures the printing of the best parts. You can measure the parts, view slices, detect collisions, save platforms and generate reports so as to deliver high-quality parts.
Edit and Enhance your Files
With Materialise Magics you can also add logos, serial numbers and hollow parts (self-supporting hollows). In addition, you can apply textures, create lattice structures and perform Boolean operations (union, subtract, and intersect) and advanced cuts.
Materialise Magics Features
Solve common problems lightning fast with one-click Autofix
Intuitive tools can guide you through the fixing process step-by-step when facing complex errors
Maintain full control with manual tools
Repair models and add thickness with ShrinkWrap (i.e. a thin layer is wrapped around the original model and shrinks afterward, repairing all errors)
Create watertight meshes that are easy to edit and manipulate
Remove unnecessary triangles with Triangle Reduction
Smooth your mesh without losing details that you want to preserve
Repair Challenging Errors

Benefit from a wide range of easy-to-use 3D printing editing features :
Hollow and perforate your parts (including self-supporting hollows)
Cut with advanced cutting lines
Perform powerful Boolean operations (Unite, Subtract, Intersect)
Apply text and image labels
Turn surfaces into printable solids
Modify the geometry of your parts with the extrude and offset tools
Mark triangles, surfaces, or entire shells rapidly and accurately
Easily apply textures or colors on marked areas, and edit them to suit your needs
Edit and Enhance your CAD Files
Spend less time in preparing the build platforms due to the advanced positioning tools and machine management that Materialise Magics has to offer.
Visualize your 3D printers within Magics, so you can see how many parts will fit
Easily achieve the exact position, rotation, and size that are required with the user-friendly and powerful Translate, Rotate, Rescale, and Mirroring tools, as well as the shape sorter.
Choose where the part shouldn't be positioned by creating no-build zones
Use automatic placement to save time when preparing a build with many parts
Build Preparation and Nesting

Different shading modes (Shade, Triangle, Wireframe, Transparency) can be applied to parts individually
Highlighting errors in parts
The possibility to make advanced sections of your parts
Slice preview
Hide functions and tabs you don't use
Make your own ribbons, toolbars, and context menus
Assign shortcuts to your frequently used functions
Change colors to your preferences
Visualization and Customization
Materialise Magics has built-in measurement and analysis tools to ensure your printed parts meet quality standards. With Magics, you can create reports that highlight the following:
Make sure all features of the part are thick enough to print
Check for colliding parts or parts outside the printer's platform
Ensure that the deviation between the 3D model and printed part stays within your predefined tolerances
Measure any feature of your part
Generate 3D PDFs and reports to efficiently communicate with your clients. Easily embed parameters of parts in your reports by linking it to your Word or Excel files
Materialise Magics 25
Modules
Import Feature File Compatability Guide
Import a large number of file formats, including colour and texture information, while not losing control of your original data.
3D Files Import with Magics Base License

Import

Texture Support

Colour Support 

Export

AMF
♦
♦
DAE
♦
♦
♦
♦
DXF
♦
♦
FBX
♦
♦
♦
OBJ
♦
♦
♦
♦
3D PDF
♦
♦
♦
PLY, ZCP
♦
♦
♦
SKETCHUP
♦
♦
♦
STL
♦
♦
♦
VRML
♦
♦
♦
♦
X3D
♦
♦
♦
♦
ZPR
♦
♦
♦
♦
3DM (RHINO)
♦
♦
♦
3DS, PRJ
♦
♦
♦
3MF
♦
♦
♦
♦


CAD files Import with Optional Import Module

Import

Colour Support

CATIA4
♦
♦
CATIA5
♦
♦
CATIA6
♦
♦
IGES
♦
♦
NX (UNIGRAPHICS)
♦
♦
PARASOLID
♦
♦
PRO/ENGINEER
♦
♦
SAT
♦
♦
SOLIDWORKS
♦
♦
STEP
♦
♦
INVENTOR
♦
♦
JT
♦
♦
VDA
♦
Materialise Magics System Requirements
System Requirements for a Workstation
Hardware
CPU

CPU

Intel Core i7
AMD Phenom II X4/ X6 at 3.0 GHz or higher with SSE2 technology

Memory

Memory

16 GB RAM or higher

Free Disk Space

Free Disk Space

Win 64-bit system
2GB of free disk space

Display

Display

1920 x 1080 resolution or higher
32-bit color depth (True color)

Video Card

Video Card

NVIDIA GeForce GTX 1060' or AMD Radeon RX 480 or better
DirectX 11 compatible video card
At least 1 GB of memory
At least a memory interface width of 192-bit (256-bit is recommended)

Software Requirements

Software Requirements

The latest version of Magics:

is only supported on Windows 64-bit:
Windows 10
Windows 8/ 8.1

is recommended on:
Windows Professional edition
Windows Enterprise edition

is not supported on Windows versions before Windows 7:
Windows 98
Windows 2000
Windows XP
Windows Vista
Virtualization systems such as VMWare
Windows 7
Magics does not run natively on Mac OS X, Linux, or any other operating system not listed above.

.NET 4.5 or later or a working internet connection during the installation is required.
Floating License Server Requirements
Hardware
CPU

CPU

Intel Core 2 Duo 2.4 GHz or equivalent server-bin CPU
AMD 64 X2 Dual 2.4 GHz or equivalent server-bin CPU

Memory

Memory

64 bit systems: 512 MB

Free Disk Space

Free Disk Space

300 MB of free disk space on the system disk

Software Requirements

Software Requirements

Windows 8.1 (64bit)
Windows 10 (64bit)
Windows Server 2008 (64bit)
Windows Server 2012 (64bit)
Windows Server 2016 (64bit)
Windows Server 2019
Materialise Magics does not run natively on Mac OS X, Linux, or any other operating system not listed above.

.NET 4.5 or later or a working internet connection during the installation is required.