KeyShot 3D Rendering and Animation Software
From design and engineering to architecture and entertainment, 3D professionals choose KeyShot to create visuals that set them apart.
KeyShot® 
Rendering and animation like never before 
With its interactive approach to rendering, KeyShot® is easy to learn and use to achieve photographic results in minutes through a simple, workflow-based interface with all the advanced capabilities for the most experienced 3D render professional. Despite the seemingly simple interface, KeyShot provides the depth of functionality to satisfy the needs of the most advanced user.
Eyes on the design, not on the software
KeyShot™ is extremely easy to learn and use to achieve photographic results in minutes through a simple, workflow-based interface with all the advanced capabilities for the most experienced 3D render professional.
KeyShot™ has a simple interface and great functionality and advanced tools that exceed even the most skillful user's needs.
Whether you have an early concept presentation, a design review, technical documentation or a final sales and marketing presentation, Keyshot allows you to start the work as long as you have the 3D data.
Create the most amazing visuals in an instant
KeyShot™ brings visual speed and agility to the entire product development process, with the widest 3D file format support for a fluid workflow from concept to the final product. Due to its unique import pipeline, you can import nearly any file format.
Due to KeyShot's extensive partnership network, users of many CAD and 3D modeling application can transfer data directly from their application into KeyShot while maintaining a link to their modeling session. Using KeyShot's one-of-a-kind LiveLinking technology any changes made to the model can be transferred to the running KeyShot session and update the scene without any loss of work.
Not a perfectly-rendered image. A realistic one.
KeyShot™ materials reflect a physically accurate and easy to understand representation of materials and their properties. Each material can be tweaked, coloured and textured showing every change in real-time. 
You can match measured materials using Cie-Lab colours and Gloss values or use digital representations from material providers such as Axalta Coating Systems, Mold-Tech, and Sørensen leather.
For material colour, you can define your own using various colour spaces, or use industry-standard colour libraries such as PANTONE and RAL. Materials can be shared through KeyShot Cloud, allowing you to tap into one of the largest online resources for rendering assets.
Full computing power
KeyShot™ has the power to use all CPU cores provided or utilize the real-time ray tracing capabilities of the NVIDIA RTX graphics cards. Whether you use Windows and Mac, KeyShot will work on nearly any desktop or laptop right out of the box.
KeyShot is one of the few applications where you can switch from CPU mode to GPU mode with one click. You can choose to take 100% advantage of all physical and virtual CPU cores in your computer or utilize 100% of all the GPU power available, scaling linearly in performance without ever tapering off when more CPUs or GPUs are added.
Real-time results
KeyShot™ is real-time rendering to the core. Not a mode. Not an afterthought. See everything as it happens. Every change from material and lighting to cameras and animation is seen instantly as you work.
Step 1: Import Your 3D Model
Import SolidWorks, Solid Edge, SketchUp, Alias, PTC Creo, Rhino, Onshape, Fusion 360, IGES, STEP, FBX, OBJ, and more data directly. With the widest 3D format support and many plugins, importing your model is quick and efficient.
Step 2: Color Your Model
Drag and drop any of the 700+  scientifically accurate materials onto your model. The real-time view instantly shows how the applied material appears on your model with accurate colour and lighting.
Step 3: Choose Your Lighting
Simply select an environment (HDRI). As soon as you drag and drop the lighting environment into your scene, you will notice the effect of the scientifically accurate real-world lighting and how it captures your models, colours, and finishes.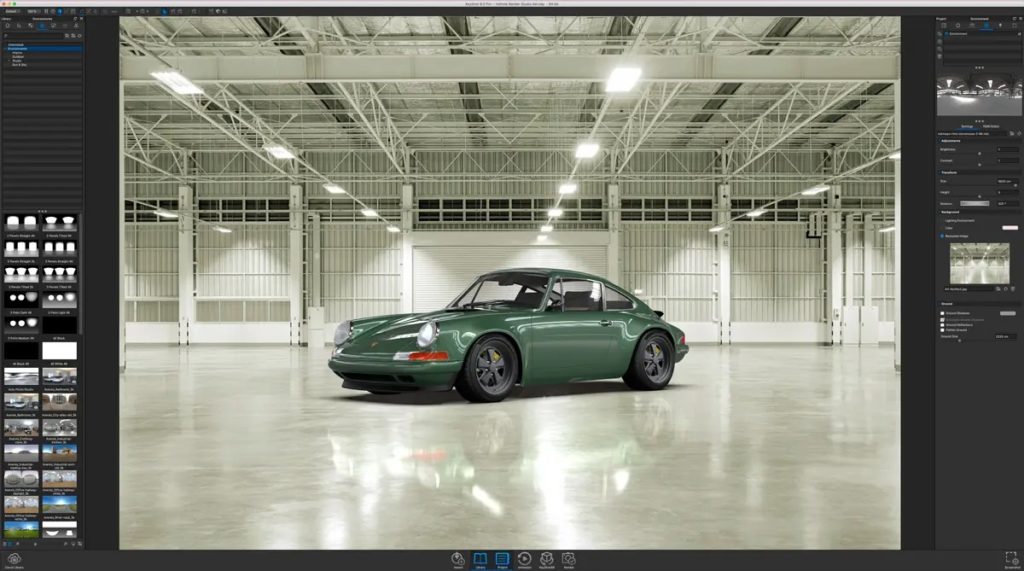 Step 4: Adjust Your Camera
Framing your scene is just as easy as using a real camera. Adjust the angle and distance, control perspective with focal length and field of view settings, and easily add depth of field to your scene. Capturing your scene has never been so simple.
Step 5: Enjoy the Perfect Shot
Now watch as your image renders before your eyes. From start to finish, a simple 5-step process to create incredible visuals fast and easy, all in real-time.
Pro Features
Features included with KeyShot Pro, Pro Floating, and Enterprise.
Animation
Features included with KeyShot Pro, Pro Floating and Enterprise
KeyShotWebTM
An add-on available for all versions of KeyShot
Thumbs up for a painless workflow
KeyShot™ is a stand-alone 3D rendering and animation application that operates side by side with your 3D modelling application. Rather than putting KeyShot™ inside the 3D modeling software, we provide a more flexible approach with three levels of integration to import and render your design.
There are two ways to import your 3D models into KeyShot–direct import or through a plugin. You don't need a plugin to import your native 3D data. However, the plugins below transfer data faster and deliver tighter integration between KeyShot and your 3D modeling software making your workflow even faster.
Direct import
KeyShot directly imports over 40 different 3d file formats from 20+ 3D modeling applications with no plugin required. From the File menu, select Open… or Import… to bring up unique options for the 3D data you need to import. Direct import of all major 3D modeling applications as well as generic 3D file formats is included in KeyShot HD, Pro and Enterprise.
Plugins

Our plugins extend the functionality between KeyShot™ and the 3D modeling application. A KeyShot plugin links the 3D modeling software and KeyShot together, rather than putting KeyShot inside the modeling application. Plugins add a menu button to your 3D software that transfers 3D data and other model information into KeyShot.
LiveLinking™
The plugins also allow our LiveLinking™ technology to establish a link between your 3D modeling software and KeyShot™. This keeps the software separate, allowing you to continue working and refining your model, then send all changes over to KeyShot with the click of a button. All without losing any views, materials, textures, or animations already applied.
Priority Designs uses 3D printing to streamline product development cycle
Consumer Products
KeyShot, a game-changer in the 3D printing software for a product design process that will help communicate ideas to clients much faster and more clear.
Priority Designs uses 3D printing to streamline product development cycle