3D Print with Confidence & Ease
The Smart Extruder+ is a modular extrusion systems that creates an intuitive 3D printing process for MakerBot 3D printers. Backed by a 6-month warranty to ensure you get the reliability and results that you would expect from an industry leader in desktop 3D printing.
Meet the MakerBot Smart Extruder+
A culmination of product design and 160,000+ hours of rigorous testing, the MakerBot Smart Extruder+ delivers a dependable, consistent and high performance 3D printing experience. For best results, work with trusted MakerBot's 3D printing PLA Filament.
Explore the Smart Extruder+ by watching the video 
Repeatable Results
Improved components and an enhanced sensor system ensure simple and reliable 3D printing from start to finish.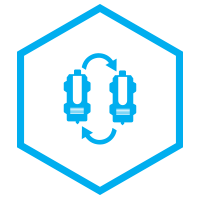 Swappable Extruders
Ensure minimal downtime & uninterrupted results with a spare extruder on hand. As an industry-leader, MakerBot is the only brand to offer an easily swappable extruder.
Connectivity
Features enhanced homing, better connectivity, as well as drastically reduced clogging and jams.
Designed for Reliability & Simplicity
Keep reliability close at hand with improved components for better print performance including: a faster print start up and easier leveling, a seamless workflow from start to finish and a 6-month warranty.
The new modular design allows users to remove and replace the extruder with ease as well as reducing downtime by replacing a worn extruder without losing a print.
Smart Extruder+ Specifications
MakerBot Compatibility

MakerBot Compatibility

Replicator
Replicator+
Replicator Mini
Replicator Mini+
Replicator Z18

Print Technology

Print Technology

Fused Deposition Modeling (FDM)

Filament

Filament

MakerBot Small & Large Spools of PLA Filament

Software

Software

Firmware 1.9+
MakerBot Desktop 3.9+

Nozzle Diameter

Nozzle Diameter

0.4mm [0.015 in]