Copper (Cu) | DM Studio System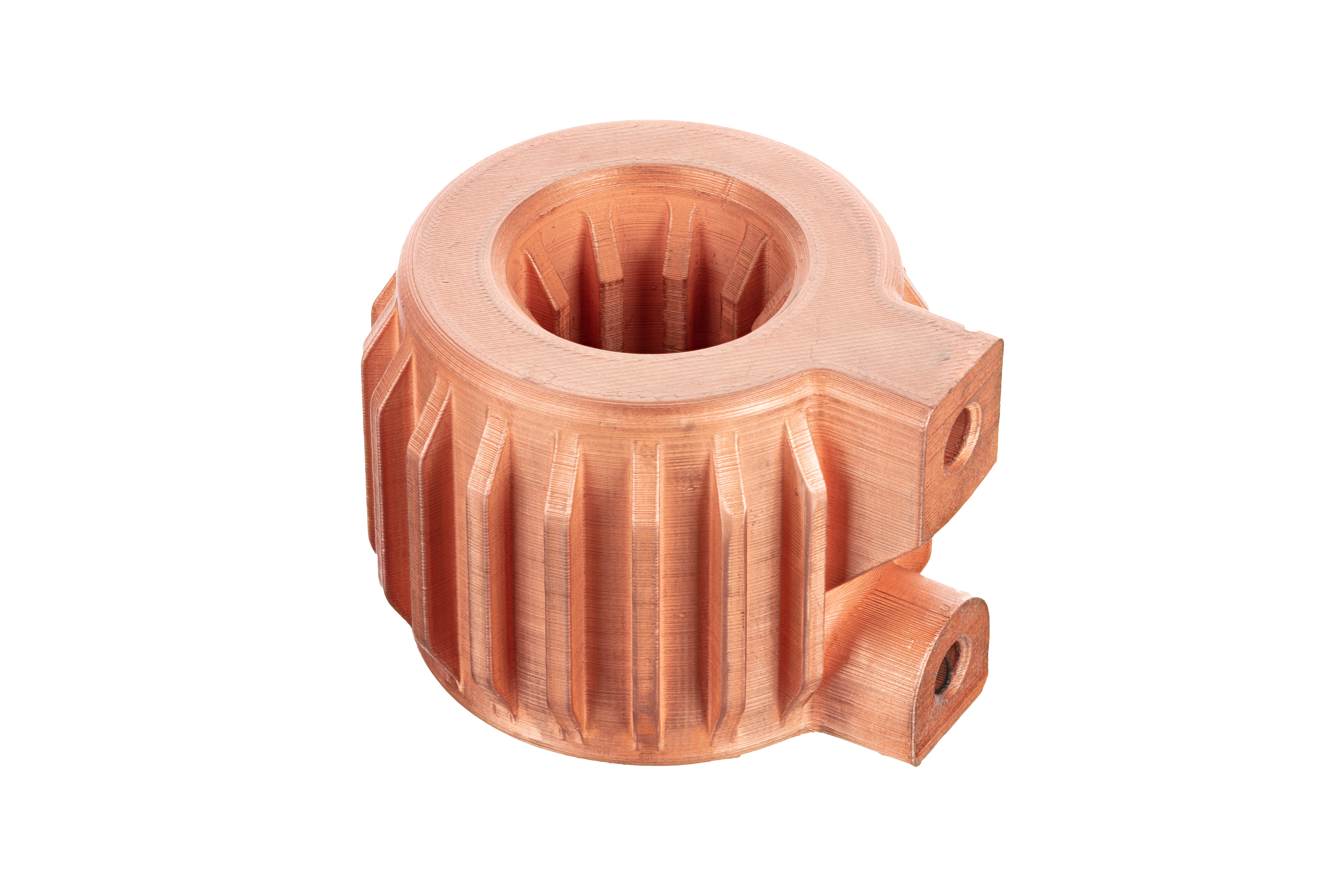 For electrical equipment, plumbing and heat transfer applications
Copper (Cu) is a conductive and ductile metal that is ideal for transferring heat or electricity. It is used in almost every electronic device made, as well as in many of the heat exchangers used in oil and gas, automotive and consumer industries.
Pure copper.


Ideal alternative to machining.
Copper printed on Desktop Metal®'s Studio System™ is pure copper. Unlike laser-based processes such as DMLS, which often print chromium zirconium copper (CuCr1Zr), bound metal deposition (BMD) is able to print pure copper. This enables for a thermal and electrical conductivity that you would expect from pure copper.
3D printing parts in copper is the best alternative to machining which most of the time turns out to be a more expensive fabrication process because copper's extreme ductility and cold workability lead to high tool wear and slow cutting rates. In addition, the printing with the Studio System permits new high-performance designs such as the incorporation of lattice structures or conformal cooling channels to improve heat transfer that is not possible with traditional manufacturing.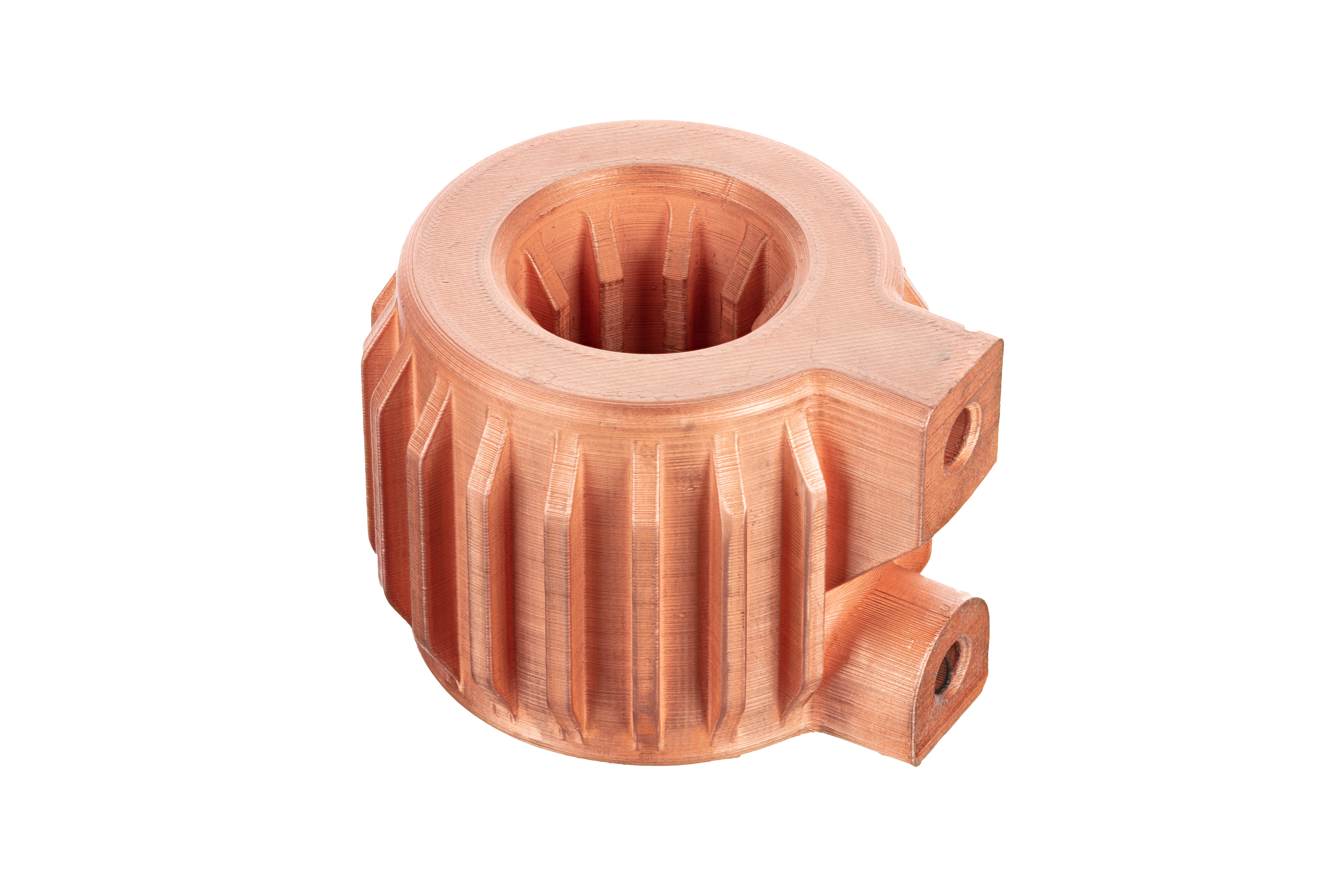 ---
Helical Heat Exchanger
This heat exchanger enables a much higher heat transfer rate than a traditionally manufactured part. Used in chemical processing to cool a hot gas as it flows through a pipe.
Full Description

The Studio System allows for the complex geometry of the heat exchanger to easily be printed as a single component. It would not be manufacturable as one component via CNC machining due to its thin external fins and a complex, internal helical cooling channel.
Specs

Size (mm): 78 x 64 x 58
Cost to print ($): 443.00
Cost to machine ($): 2138.00
Cost reduction: 79.28%
Technology/Process
 

Make Metal Work Faster
No more waiting for machined or cast parts. Iterate faster by printing highly complex metal parts without leaving the office.
ULTIMATE TENSILE STRENGTH
(as-sintered)
195 MPa
YIELD STRENGTH
(as-sintered)
45 MPa
ELONGATION AT BREAK
(as-sintered)
37%
DENSITY
(as-sintered)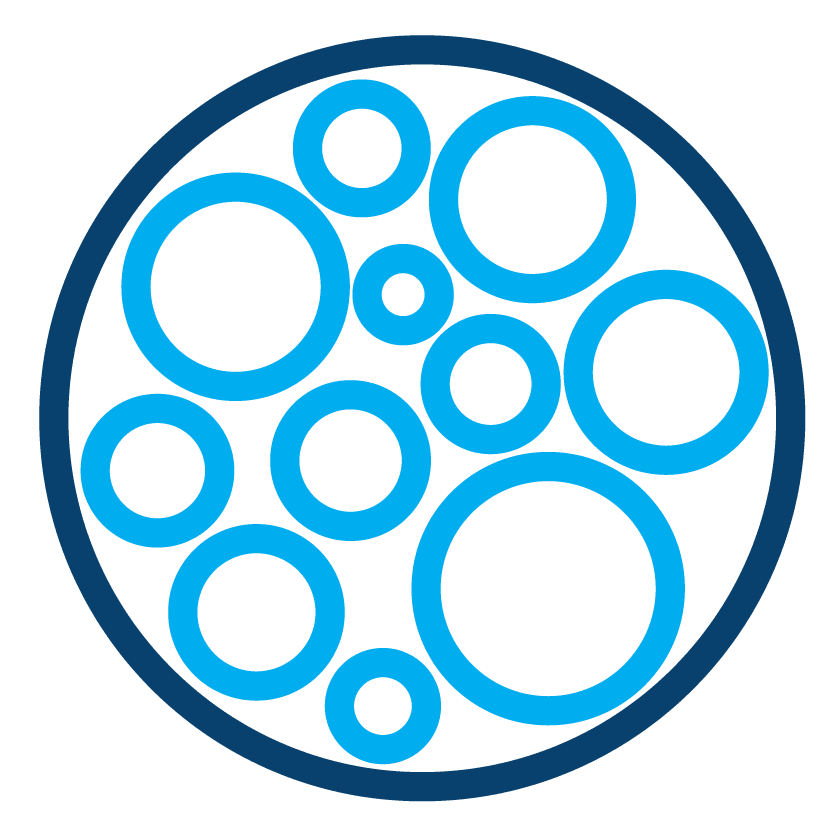 8.75 g/cc
Performance Scale
| | |
| --- | --- |
| Electrical Conductivity | |
| Thermal Conductivity | |
| Strength | |
Technical Specifications
Performance & Properties
Performance Specifications
Studio System™
As-Sintered
Performance

MIM - MPIF 35 typ
As-Sintered
Performance

Electrical Conductivity, ASTM E1004

85.2 % IACS
N/A

Coefficient of Thermal Expansion (CTE) - ASTM E228

20 - 38ºC: 17.01 *10-6/ºC
20 - 66ºC: 17.15 *10-6/ºC
20 - 93ºC: 17.22 *10-6/ºC
20 - 121ºC: 17.33 *10-6/ºC
20 - 149ºC: 17.43 *10-6/ºC

20 - 38ºC: 17.01 *10-6/ºC
20 - 66ºC: 16 *10-6/ºC
20 - 93ºC: 16.4 *10-6/ºC
20 - 121ºC: 16.7 *10-6/ºC
20 - 149ºC: 16.9 *10-6 /ºC
Properties Specifications
Studio System™
As-Sintered
Properties

MIM - MPIF 35 typ
As-Sintered
Properties

Ultimate Tensile Strength

195 MPa
207 MPa

Yield Strength

45 MPa
69 MPa

Elongation at Break

37%
30%

Density (g/cc)

8.75
8.5 (min)