Desktop Metal Studio Fleet™
DESKTOP METAL
STUDIO SYSTEM FLEET
The Desktop Metal Studio Fleet Scales Production Without Custom Tooling or Production Facilities
The Desktop Metal Studio 3D Printer Fleet™ is custom and configurable metal 3D printing solution for producing complex metal parts in low-mid volume. 3D Print with 5x the throughput and a fraction of the cost of comparable options.
Put Metal 3D Printing to Work
The Desktop Metal Studio Fleet™ creates an opportunity for manufacturers to produce complex metal parts, with the design freedom of 3D printing, at scale. Studio Fleet is designed for low-mid volumes and brings many advantages when working with Studio System+ technology; some of which include stackable shelving made for batch processing. This could be used for the rapid production of multiplex metal parts. Studio Fleet was constructed to scale, therefore has the ability to be configured to deliver nearly 5x the throughput of the authentic three-part system for only twice the capital investment.
Studio System™
Required are the following:
1 Printer
1 Debinder
 1 Furnace 1 x throughput
 
Studio Fleet (3x)
Required are the following:
3 Printers
 1 Debinder
 1 Furnace 3x throughput
 

Studio Fleet (5x)
Required are the following:
 5 Printers
 2 Debinders
 1 Furnace 5x throughput

SCALE THROUGHPUT
Manufacturers can now scale production for low and mid-volume runs using Studio Fleet, without having to worry about steep costs correlated to custom tooling or committed production facilities. Frequent scenarios include the following:
Low figure production of custom parts
Aftermarket / Replacement parts
Pilot runs before mass production takes place
Applications for the Desktop Metal Studio Fleet™
EXTRUDER NOZZLE
The nozzle is used to mix two dense, ceramic slurries. It then directs flow and defines the shape of extrusion. The application calls for a complex loft design, and a rather low capacity.  Due to the strength, stiffness, and thermal resistance requirements, the extruder nozzle is required to be made of metal.
Internal 3D printing has grown up to four times quicker, with a cost reduced by 90% compared to CNC machining or selective laser melting (SLM).Rather than extrusion honing, parts can be simply sanded in the green state in order to have a successful critical surface finish on the nozzle's interior.
                                    Production Rate
System
Weekly
Monthly
Annual
Studio System+
12
52
624
Studio Fleet 3:1:1
36
156
1,872
Studio Fleet 5:2:1
60
260
3,120
FLEXURES
Generally, flexures call for comprehensive, multi-step manufacturing processes. This includes wire EDM, water jet, brazing and so on – to accomplish the desired geometry. In order to iterate rapidly, as well as perform extensive testing, it's crucial to ensure part performance.
In-house metal 3D printing gives users the ability to create complex geometries, without sacrificing impact on cost or time, as well as rapid iteration and testing at quantities needed for effective validation.
                                                  Production Rate
System
Weekly
Monthly
Annual
Studio System+
72
312
3,744
Studio Fleet 3:1:1
216
936
11,232
Studio Fleet 5:2:1
360
1,560
18,720
LATHE GEAR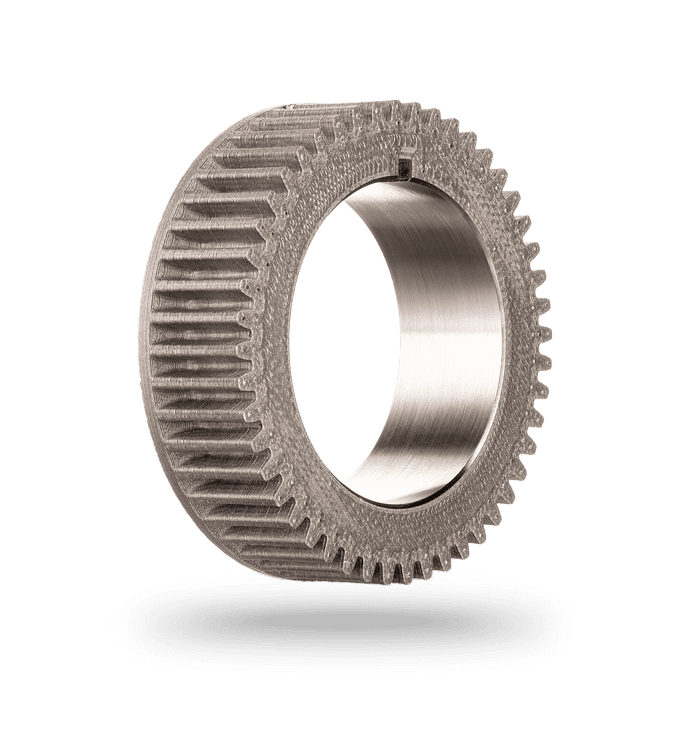 The custom gear was created for a vintage lathe that is no longer in production. Because of frequent use and high loads, the part is susceptible to wear. In order to machine the gear at volume due to broaching or hobbing in prohibitively costly and can also be time consuming. This ends in longer downtime until the replacement gear is available.
In order to meet the necessary strength and requirements, the lathe gear must be made of metal. In-house metal 3D printing with a custom hardware configuration expedites the production of replacement gears at a crucial reduction in cost-per-part.
                                                  Production Rate
System
Weekly
Monthly
Annual
Studio System
28
121
1,456
Studio Fleet 3:1:1
84
364
4,368
Studio Fleet 5:2:1
140
607
7,280