THE STRATASYS
FORTUS 380MC CARBON FIBER EDITION
Advanced Prototyping and Production with Carbon Fiber-Reinforced Nylon 12 3D Printing Material.
The Stratasys Fortus 380mc™ Carbon Fiber Edition 3D Printer combines production grade accuracy, reliability and repeatability with the strength and durability of carbon-reinforced nylon. It is powered by proven Stratasys FDM 3D printing technology and designed to tackle the tough engineering and manufacturing challenges on the factory floor. It fills the gap between unreliable and capability limiting desktop 3D printers and high-end production 3D printers, providing a low-risk opportunity to 3D print strong jigs and fixtures, prototypes and end-use parts.
Unparalleled Reliability, Throughput, Speed, and Design Freedom in a Carbon Fiber 3D Printer
The Stratasys Fortus 380mc Carbon Fiber edition 3D printer is designed to produce accurate, reliable and high strength parts. It is a solution built to tackle functional prototyping, production parts and rugged tooling with the strength and stiffness of carbon-filled nylon material and general purpose ASA.
Explore the Stratasys Fortus 380mc Carbon Fiber 3D Printer by watching the video 
The Strength of Carbon Fiber 
With carbon reinforced nylon 12 you can build parts that withstand tough manufacturing applications
Swap Metal for Carbon
With Nylon 12 CF you can be confident in swapping metal for lighter tools, functional prototypes and production parts
Trust Proven Solutions

No warping, curling, or inconsistency that you get with desktop 3D printers. Only industrial grade reliability with Stratasys
Complex and High Requirement Parts
Complete design freedom, with soluble support removal and the consistency of proven FDM 3D Printing
Intuitive and Easy Software
Monitor your productivity and easily prepare files for 3D printing with GrabCAD and Insight Software
No Special Facilities Required
You can install a Fortus 380mc CF 3D Printer anywhere, with no special venting required and no noxious fumes
Advanced Tooling Applications
Reinvent your manufacturing tooling production and take advantage of the benefits that additive manufacturing offers. With the Stratasys Fortus 380mc Carbon Fiber 3D printer you can produce strong but lightweight production tools on-demand in the aerospace, automotive and industrial manufacturing industries. You have the complete design freedom to 3D print complex shapes, including voids and undercuts, along with light weighting the interior of the print to find the perfect balance between cost, strength, and performance.
The Strength of Carbon Fiber
FDM Nylon 12CF™ 3D printing material was specifically engineered by the Stratasys materials team to have a high strength-to-weight ratio and tensile strength. It is a chopped carbon fiber-filled (35% by weight) polyamide 12 with the highest specific modulus of any FDM 3D printer material.  Due to the unique design of the material and the directional orientation of carbon fibers, Nylon 12CF exhibits anisotropic properties that can be tailored similar to a composite laminate. This enables parts to have a higher uniaxial stiffness than injection molded parts of the same material, yet still have the freedom of design associated with additive manufacturing.
An Industrial Solution
When it comes to 3D printing, trust Stratasys Fortus 3D printers to get the job done. At the core, the Fortus 380mc Carbon Fiber Edition is powered by fused deposition modeling 3D printing technology, enabling you to print confidently with materials that can endure heat, chemicals, and high-impact. The system is designed to have industrial reliability and throughput, yet requires no special facilities to operate or special skills required to maintain and print. Trust the name that invented additive manufacturing, and has been enabling innovation for over 30 years.
Thule Embraces Carbon Fiber 3D Printing
Consumer Products
Thule, a consumer goods manufacturer, embraces additive manufacturing with FDM Nylon 12 carbon fiber and Stratasys Fortus 3D Printers. With less than a full year of the Fortus 450mc under its belt, the company has already printed numerous designs and saved over $45,000 so far this year, and countless days of time.
Eckhart Improving The Life Of The Line
Robotics
Eckhart, a leader in advanced industrial solutions, customizes factory floor operations to address the specific needs of each client. These solutions include how ergonomics, line of site or bill of materials can be improved using autonomous guided vehicles, collaborative robotics and Stratasys additive manufacturing equipment.
Utah Trikes: A Revolutionary Material
Consumer Products
Utah Trikes, a company that specializes in manufacturing trikes, quads, and custom wheelchairs, has adopted additive manufacturing in order to tackle projects with high customization requirements. Their Stratasys 3D printer has allowed them to product jigs and fixtures, and low-volume production runs in-house.
Thule Embraces Carbon Fiber 3D Printing
Eckhart Improving The Life Of The Line
Utah Trikes: A Revolutionary Material
Software
The Stratasys Fortus 380mc Carbon Fiber Edition is powered by both GrabCAD Print and Insight software, providing you with an easy, accessible and smooth workflow for additive manufacturing.
Native CAD file support
Prepare, schedule, monitor, and report on all 3D print jobs
Track progress with automated notifications
Monitor material levels and organize print queues
Control Center job processing and management software
Automatically adjust support structures and material extrusion paths
Share project information between users
Pause production to change materials or embed hardware
ASA
Now you can build consistently high-quality parts, with exceptional UB stability and the best aesthetics of any FDM thermoplastic printing material.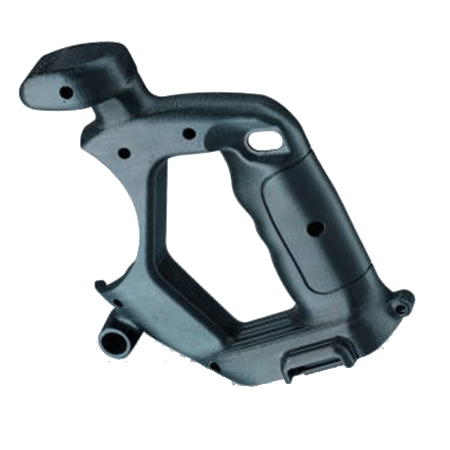 PC-ABS
PC-ABS (polycarbonate-ABS) is a tough, durable, and heat-resistant 3D printing material from Stratasys. It is a high-impact engineering thermoplastic designed to work with FDM (Fused Depostiion Modeling) 3D printing technology and perfect for producing tooling, prototypes, and end-use parts or when heat-resistance and impact strength are important.
Carbon Fiber Nylon 12CF
Nylon 12CF delivers the highest strength and stiffness-to-weight ratio of any our FDM materials, suitable for markets like aerospace, automotive, industrial & recreational manufacturing
Technical Specifications
System Specifications
Build Envelope (XYZ)

Build Envelope (XYZ)

355 x 305 x 305 mm
(14 x 12 x 12 in.)

Material Delivery

Material Delivery

One bay each for material and support canisters

Achievable Accuracy

Achievable Accuracy

Parts are produced within an accuracy of ± .127 mm (± .005 in.) or ± .0015 mm/mm (± .0015 in/in), whichever is greater. Z part accuracy includes an additional tolerance of -0.000/+slice height. (Accuracy is geometry dependent. Achievable accuracy specification derived from statistical data at 95% dimensional yield.)

Material Options

Material Options

ASA
FDM Nylon 12 CF

Power Requirements

Power Requirements

208VAC 3 phase, 50/60 Hz, 18 Amps

System Size & Weight

System Size & Weight

129.5 cm x 90.2 cm x 198.4 cm
(51 x 35.5 x 78.1 in.);

601 kg
(1,325 lbs.)

Network Communication

Network Communication

10/100 base T connection. Ethernet protocol

Operator Attendance

Operator Attendance

Limited, attendance for job start and stop required.

Regulatory Compliance

Regulatory Compliance

CE, cTUVus, EAC, FCC Part B

Software

Software

All Fortus® systems include Insight and Control Center job processing and management software. Compatible with GrabCAD Print for use with job reports, scheduling and remote monitoring.

Operating System

Operating System

Microsoft Windows 10 (Pro, Enterprise, Education), Microsoft Windows 8.1 and Windows 8
(Pro, Enterprise), Microsoft Windows 7 (Pro, Enterprise, Ultimate), Microsoft Windows Server
2012 R2. Insight software requires a 64-bit operating system.
| | | |
| --- | --- | --- |
| | ASA | FDM Nylon 12CF |
| Layer Thickness | 0.330 mm (0.013 in.), 0.254 mm (0.010 in.), 0.178 mm (0.007 in.), 0.127 mm (0.005 in.) | 0.254 mm (0.010 in.) |
| Support Structure | Soluble | Soluble |
| Available Colours | Black, Dark Gray, Light Gray, White, Ivory, Dark Blue, Green, Yellow, Orange, Red | Black |