For 3D printing ultra-high resolution parts in volume
Designed for a 24/7 production environment, the PRO XL 3D printer can run lights out. Easily print parts at volume with the quality, surface finish and tolerances needed for end-use applications.

Pro XL is the highest resolution advanced DLP printer with the largest build envelope and deploys artificial intelligence in pixel modulation to deliver the highest accuracy parts.
For enhanced serviceability, the Pro XL features minimal moving components and convenient access to the printer's optics and electronics, promoting optimal user efficiency through the minimization or elimination of operational disruptions.
PRO XL.
High Accuracy & Throughput
Pro XL is the newest generation of a high-resolution DLP 3D printer launched on the market over 20 years ago, and it boasts an impressive build area with pixel resolution for end-use applications in major industries like dental, jewelry and industrial.
Accuracy down to the micron level
The Pro XL's trusted platform features a 4K UHD projector for optimum build size and pixel resolution. UV optics tuned to 385nm wavelength are designed to reduce image distortion and ensure the maximum amount of energy is transferred from the LED light source for exceptionally precise curing. The Pro XL continues to create value with superior part quality and print reliability optimized for high-quality part production.
Fully automated manufacturing
Pro XL allows you to take control of the manufacturing workflow with:
automated job queuing managed by an onboard processor and hard drive
automated job completion alerts to help minimize printer downtime
Pro XL is powered by ETEC's software for remotely managed enterprise use.
You can send jobs to multiple machines around the globe through a dashboard and easily monitor the printing progress, job status, layer count and more. 
To further limit downtime, the build plate can be quickly swapped, allowing a new job to be started minutes after a print is completed.
  Intuitive software
Pro XL has a user-friendly software, Envision One RP, that automates all printing process parts, including support generation and part orientation. In addition, Hyperprint™ technology uses print force data to optimize build layers. An efficient combination of heat and closed-loop feedback, driven by intelligent load sensors detecting forces exerted on the part, fully customizes how each print layer is processed for repeatability, quality assurance, and speed. 
Easy material changes
Less than two minutes of material changes allow users to produce various parts with properties tailored to different applications.
Excess material can be stored for months, helping you to achieve further cost efficiencies.
Hyperprint
Seeing is Believing
Discover how lighting-fast DLP 3D printing technology is enabling higher volume production with high-performance materials
---
HTM140
Material: High-temperature plastics
ETEC®'s HTM140 High-Temperature Mold material has a heat deflection temperature of 140°C straight out of the machine.
Full Description

High-definition parts printed in HTM140 can be directly vulcanized in rubber, eliminating the need for a metal master.
Specs

Tensile Strength: 56 MPa
Flexural Modulus: 3350 MPa
Elongation at Failure: 3.5 %
Heat Deflection Temperature at 0.455 MPa: 140°C
Colour: Green
Application

Applications that require thermal resistance such as items to be metalized.
High-temperature oil & gas applications
Tools for small-run injection molding
Technology/Process

DLP (Digital Light Processing)
---
Easy Cast 2.0
3D Printing resin for castable models
Easy Cast 2.0 is a photopolymer with the highest wax content available in 3D printing today. It is a material for the high-speed printing of castable models.
Full Description

Easy Cast 2.0 C is a material developed for printing exclusively on EnvisionTEC's patented cDLM printers. Because the continuous digital light processing technology has almost zero separation forces during printing, it allows for 90% liquid wax content in the formulation. Consequently, patterns printed in Easy Cast 2.0 C feature burnout similar to injection wax.
Specs

Viscosity: 200 cP @ 30°C
Density: 1.08 g/cm3
Temperature @ 5% Weight Loss: 263°C
Ash Content (after 900°C): 0
Application
Technology/Process

cDLM – Continuous Digital Light Processing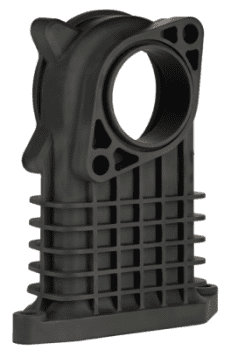 ---
E-Rigid Form
This polyurethane-like resin 3D prints strong, hard, and stiff end-use parts. It has high tensile strength, delivers good heat deflection, and is water-resistant.
Full Description

E-RigidForm is a versatile and tough material with characteristics such as

High tensile strength
High Stiffness
Specs

Tensile Strength: 68-73 MPa
Tensile Modulus: 2950-3250 MPa
Elongation at Break: 6%
Impact Strength (Notched): 30 J/m
Heat Deflection Temperature at 1.181 MPa: 62.5°C
Application

Industrial & Consumer Applications
Great for prototyping and end-use parts
Technology/Process

DLP (Digital Light Processing)
Technical Specifications
Build Volume (L x W x H)

Build Volume (L x W x H)

249.1 mm x 140.1 mm x 165.1 mm (9.8 in. x 5.5 in. x 6.5 in)

Z Resolution (material dependent)

Z Resolution (material dependent)

25, 50, 100 μm
(optimized for each material part performance)

Native Pixel Size

Native Pixel Size

65 μm

Projector Resolution

Projector Resolution

4K UHD (3840 x 2160 px)

Power & Wavelength

Power & Wavelength

5 mW/cm2
385 nm

HyperPrint™

HyperPrint™

Heat + closed-loop printing

Electrical Requirements

Electrical Requirements

100-250V AC, 6.3 A 50Hz/60Hz

Footprint (L x W x H)

Footprint (L x W x H)

90 x 60 x 152 cm
(35.4 x 23.6 x 59.8 in)

Weight

Weight

90 kg (198.4 lbs)

Qualified Materials

Qualified Materials

E-Rigid Form | Charcoal
HTM 140
EasyCast