Volume production of rigid and high-temperature polymers, elastomers, and castable materials
The ETEC Xtreme 8K large-format DLP 3D printer is designed for the volume production of end-use polymer parts. With its industry-leading build volume, incredibly high speed, accuracy, and wide range of compatible materials based on long-chain molecule chemistry, you can produce fully isotropic and stable end-use parts in the thousands per day.  
Take Additive Manufacturing
to the Xtreme 

The ETEC Xtreme 8K makes the promise of additive manufacturing at scale with polymers a reality. Powered by continuous DLP  3D printing technology and a dual 4K projection system the 8K was engineered for the demands of AM 2.0 – injection molding surface finish and accuracy, isotropic material properties, and the cost and speed similar to traditional polymer manufacturing processes.
Speak with an additive manufacturing expert to discover how the Xtreme 8K can reinvent your capability to manufacture polymer parts.
Designed for Volume Production
The ETEC Xtreme 8K has the largest build volume of any production-grade DLP 3D printer currently on the market with an increased manufacturing capacity of over 150L of parts per day. With a build volume of 450 x 371 x 399 mm (17.7 x 14.6 x 15.7 in), users can print large parts, thousands of smaller parts or mix & match both in one build.
Up to 10,000 hrs Uniform Power
ETEC's Xtreme 8K has an LED-based light source that delivers uniform power at 385nm for up to 10,000 hours and it is designed for 24/7 productivity. Its DLP 4K dual projector has the highest custom power of a 12W LED light source.
Fast Print Speeds
Shorter polymerization times are possible with unique features such as top-down printing, high-power dual 4K projectors, and custom-designed optics. The ETEC Xtreme 8K 3D printer uses high-powered light sources and a highly efficient, custom optical train to ensure that high power is delivered to each voxel, resulting in fast polymerization.
Isotropic Parts
Thanks to the long-chain chemistry of the polymers* used with Xtreme 8K, you can now compete with traditionally manufactured plastic components such as injection-molded plastic as the printed parts on this system are strong and fully isotropic.
*Creating those long-chain polymers requires processing highly viscous resins which need significant power to polymerize. Due to their high viscosity, these resins cannot be jetted (PolyJet,) and take too long to process with vector-based polymerization methods (SLA.) In other 3D printing processes such as FDM, the parts are anisotropic and have no polymer chains between the layers. 
Smooth Surface Finish
ETEC's DLP technology has made it possible to achieve a surface roughness of less than one micron RA thanks to a pixel-tuning patented technique. In addition, the Xtreme 8K also prints top-down which means that the parts are completely submerged in the material during printing and that there is less support structure required. 
Seeing is Believing
Discover how lighting-fast DLP 3D printing technology is enabling higher volume production with high-performance materials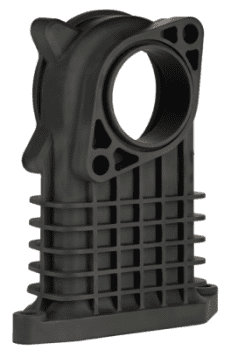 ---
E-Rigid Form
This polyurethane-like resin 3D prints strong, hard, and stiff end-use parts. It has high tensile strength, delivers good heat deflection, and is water-resistant.
Full Description

E-RigidForm is a versatile and tough material with characteristics such as

High tensile strength
High Stiffness
Specs

Tensile Strength: 68-73 MPa
Tensile Modulus: 2950-3250 MPa
Elongation at Break: 6%
Impact Strength (Notched): 30 J/m
Heat Deflection Temperature at 1.181 MPa: 62.5°C
Application

Industrial & Consumer Applications
Great for prototyping and end-use parts
Technology/Process

DLP (Digital Light Processing)
Build Envelope

Build Envelope

450 x 371 x 399 mm (17.72 x 14.61 x 15.71 in.)

Voxel Size in XY with Pixel Tuning

Voxel Size in XY with Pixel Tuning

75 µm

Dynamic Voxel Resolution in Z (material dependent)

Dynamic Voxel Resolution in Z (material dependent)

100 - 150 µm

Print Speed (material dependent)

Print Speed (material dependent)

Up to 1.5 inches/hour

Footprint

Footprint

1420 x 1052 x 2083 mm (55.9 x 41.42 x 82 in.)

Electrical Requirements

Electrical Requirements

220 VAC, Three Phase, 20A

Weight

Weight

907.18 kg (2000 lbs.)