An industry-leading portfolio of photopolymer resins
designed for manufacturing
Easy Cast 2.0 is a breakthrough material for the high-speed printing of a castable model. Easy Cast 2.0 is a photopolymer with the highest wax content available in 3D printing today. This material delivers exceptionally crisp features, similar to ETEC's low- and no-wax materials — from the smallest of pierced filigrees to the sharpest of corners on raised surfaces.
Material Properties:
Viscosity: 200 cP at 30°C
Density: 1.08 g/cm3 at 25°C
Colour: Yellow
With 20% powder wax content, WIC 100 delivers fine print details and fast printing speeds, along with a standard wax burn-out cycle with regular gypsum investment. During the burn-out cycle, the nano-wax melts away first, allowing the resin to burn off without excessive expansion.
Material Properties:
Tensile Strength:14.8 MPa
Ignition Temperature: 300°C
Density: 1.32 g/cm3
Colour: Green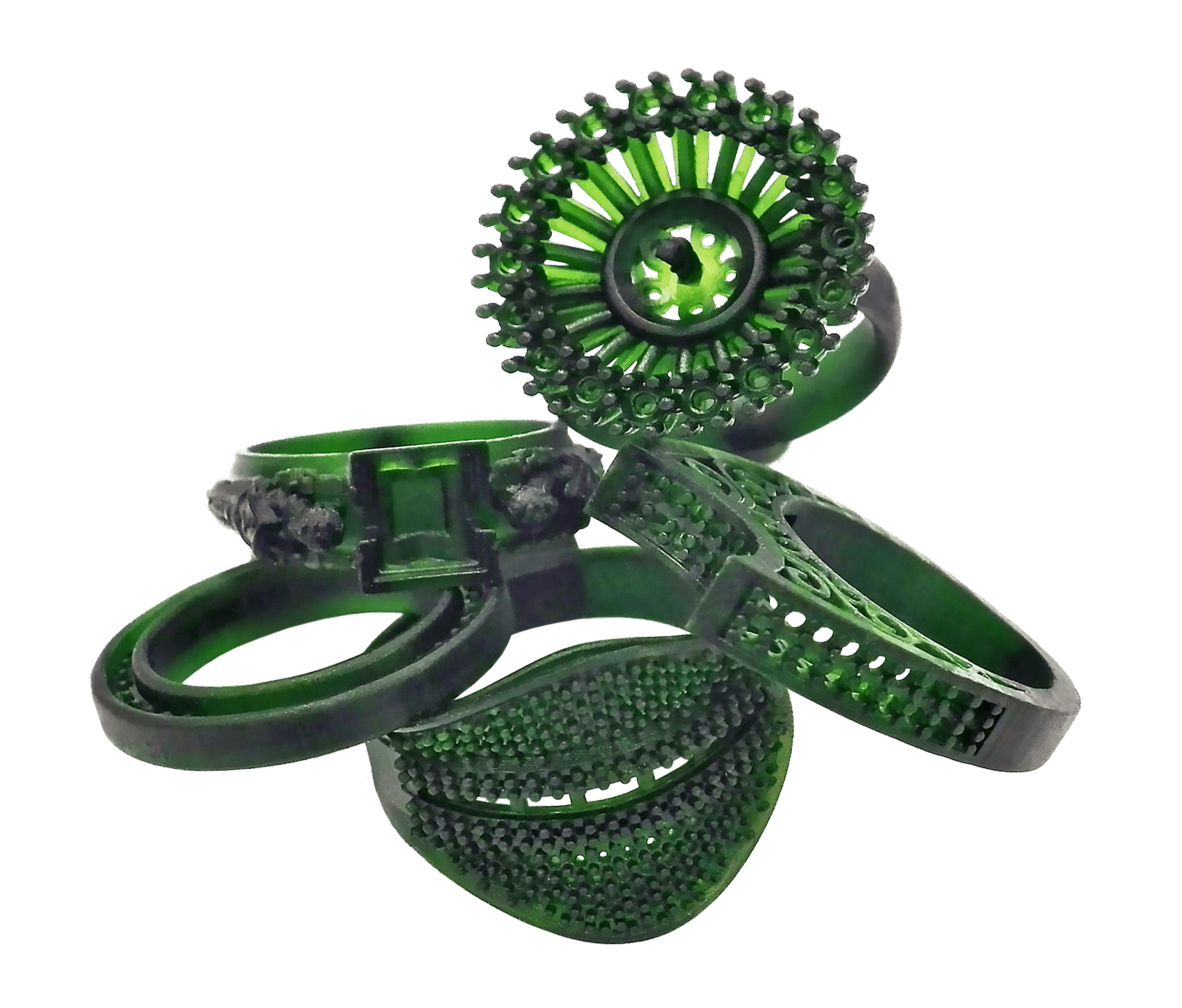 EPIC has been developed for direct investment casting products for the jewelry market. It offers excellent burn out properties and builds with the highest quality and crisp detail.
Parts made using Epic evaporate at moderate burn-out temperatures without reacting with your investment and offer an extremely low thermal expansion. This material is optimally suitable for producing precious metal castings.
Material Properties:
System Compatibility – ETEC Polymer 3D Printers
3D print end-use parts at a production scale with the power of light
Aerosport Additive turns to ETEC and Adaptive3D to revolutionize the 3D printing of rubber parts
Aerospace
Aerosport Additive is an Ohio-based service bureau that produces prototypes and working models for the automotive, aerospace, military, electronics and consumer industries. This company turned to DLP technology to expand its portfolio.
Award winning animation studio relies on ETEC to help create characters.
Media and Entertainment
Aerosport Additive turns to ETEC and Adaptive3D to revolutionize the 3D printing of rubber parts