Desktop Metal® Shop System™
DESKTOP METAL®
Shop SystemTM
A metal binder-jetting 3D printer designed for machine shops
As the first binder jetting system designed for machine shops, Shop SystemTM lets your shop take advantage of affordable, high-quality binder jetting technology. It prints end-use metal parts with unrivaled speed, print quality and productivity. A complete, end-to-end solution, the Shop SystemTM includes a printer, powder station and furnace, and easily integrates with your existing shop operations.

Metal 3D Printing Designed for Machine Shops
The Desktop Metal Shop System™ is the first binder-jet metal 3D printer that can cost-effectively 3D print small end-use metal parts with unparalleled speed and productivity. Internal machine shops, job shops, and service bureaus can now manufacture complex metal parts in low-mid volumes without the overhead, labor, and complexity of traditional laser-based metal 3D printing systems. With the Shop System, you can work with familiar metals like stainless steels, tool steels, and superalloys to build one-ofs to 100s of parts per day.
Explore the Desktop Metal Shop System™ by watching the video 
How it Works
The Desktop Metal Shop System™ is an end-to-end solution utilizing single-pass binder jetting 3D printing technology to manufacture high-resolution 3D printed parts in a fraction of the time and cost of traditional manufacturing processes and laser-based additive manufacturing.
Print Stage
For every layer, the Shop System™ printer spreads metal powder across the build bed and follows it up with a binding agent that is precision-jetted onto the metal powder to bond it and establish the part's geometry. Layer after layer, the metal powder and binder are deposited until the entire build volume is packed with bound parts and surrounding loose powder.
Depowder Stage
When the build is complete the Shop System™ removes the build box and puts it in a powder station for bulk and fine depowdering – aided by a hand-held air pick. Loose powder is then removed and recovered from each part with a built-in powder recycling system that includes powder sieving.
Sinter Stage
Depowdered parts are placed onto trays in a shop-safe, high-capacity furnace for batch sintering. With an external gas hookup, temperatures that reach 1400°C, and the ability to process high-strength binders, the Shop System furnace delivers dependable, high-quality sintering in a shop-friendly format.
The Shop SystemTM Materials

The Shop SystemTM supports a wide variety of materials, such as Stainless Steel and Super Alloys, including 17-4PH Stainless Steel.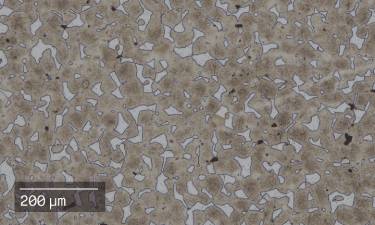 ---
Desktop Metal | 17-4 PH Stainless Steel | Shop System
Material: 17-4 PH Stainless Steel
17-4 PH stainless steel is a precipitation hardening steel used in a wide range of industrial applications including those with mildly corrosive environments and high-strength requirements.
Specs

Hardness 

Sintered: 26.4±1 MPa
Heat-treated: 40.5±2 MPa


Ultimate Tensile Strength: 

Sintered: 912±35 MPa
Heat-treated: 1205±35 MPa


Elongation at Break (%):

Sintered: 5.9±2
Heat-treated: 11.9±2

Young's Modulus (GPa)

Sintered: 178±30
Heat-treated: 185±20
Application

Manufacturing machinery
Chemical processing
Food processing
Pump components
Valving
Fasteners
Jigs and fixtures
Technology/Process

Metal Binder-Jetting™ on the Desktop Metal Shop System
Easy to Integrate & Operate
Designed and built for modern machine shops, Shop SystemTM fits seamlessly into your workflow. The system produces parts with outstanding surface finish and resolution compared to laser-based systems, and it does so at a much lower cost.
A Turnkey Solution
Shop System™ comes with all the equipment components your shop needs to start binder jetting – from print to sintering. The range of build volume configurations available with Shop System, including 4L, 8L, 12L, and 16L, lets you scale the system's speed to your shop's workflow.
Streamlined Post-Processing
Shop System™ parts print fully supported in their powder bed and feature sintering setters that are removable by hand. This reduces the time needed to machine-off support structures versus laser-based systems and gives you client-ready, near-net-shape parts straight out of the furnace.
Unrivaled Productivity
Shop System™ uses the power of a high-speed, single-pass print engine to output high-quality metal parts up to 10x faster than laser powder bed fusion, all with the capacity to produce up to 70kg of metal parts every day.
Superior Print Quality
Shop System™ prints client-ready, high-resolution parts with remarkably fine feature details. It is capable of surface finishes as low as 4µm Ra from the furnace, and <0.1µm Ra with mass finishing. Shop SystemTM produces fully dense, solid parts, without the need to debind or infill.
Mixed volume production
Produce parts with different geometries simultaneously without the need for multiple setups.
Batch production
Cost-effectively 3D print low-volume batches of complex parts due to elimination of tooling.
Mid-volume production
Produce hundreds of near-net-shape parts every day with dramatically reduced labor costs and expanded geometric flexibility.
Applications 
Serving a wide range of industries including manufacturing, tooling, automotive, consumer, electronics, and oil & gas.
---
Clipper Blade
Manufacturing 17-4 PH Stainless Steel
This part is a clipper blade used in an electric hair trimmer.
Full Description

In order to manufacture this clipper blade through traditional ways such as stamping or injection molding, it would be needed expensive tooling. But, with the Shop System by Desktop Metal, the costs involving tooling are eliminated, and the manufacturing lead times are reduced.

With additive manufacturing, it is now possible to mass-customization, allowing real-time adjustments to the parts.
Specs

Size (mm): 36 x 35 x 3.5
Cost per part ($): 5.74
Parts per build: 684
Weekly throughput: 4,788
Technology/Process

Binder Jetting Technology
---
Down Hole Tool Slip
This part provides a frictional hold between a packer and a pre-existing pipe during oil extraction.
Full Description

This down hole tool slip is a consumable part and is lost after pumping is complete, therefore keeping the price and lead time low is essential. The Shop System allows this part to be manufactured with an accelerated lead time and at a lower cost than traditional manufacturing. Moreover, the part design can be changed for different pumping scenarios.
Specs

Size (mm): 57 x 23 x 82
Cost per part: $56.31
Parts per build: 26
Weekly throughput: 205
Technology/Process

Binder Jetting Technology™
---
Bulb Nozzle
Manufacturing 17-4 PH Stainless Steel
This part is a custom nozzle for use in chemical processing.
Full Description

Traditional manufacturing of this part would require casting followed by extensive secondary machining on a 5 axis CNC. Because only a few hundred of this nozzle needed to be manufactured, it was a great fit for the Shop System.

By 3D printing, the entire order of nozzles was produced on the Shop System in less than a week with only one secondary thread-tapping operation required.
Specs

Size (mm): 38 x 38 x 46
Cost per part ($): 29.12
Parts per build: 27
Weekly throughput: 319
Technology/Process

Binder Jetting Technology
---
KillaCycle Coupling
Automotive 17-4 PH Stainless Steel
This part is a taper lock coupling designed for a high-end, custom electrically powered motorcycle – KillaCycle – manufactured for drag racing.
Full Description

Using the Shop System, engineers were able to design and rapidly iterate on the part using a tapered design that would be difficult to manufacture via traditional methods.
Specs

Size (mm): 70 x 70 x 32
Cost per part ($): 86.94
Parts per build: 15
Weekly throughput: 137
Technology/Process

Binder Jetting Technology
---
Gear Shift Knob
This customized gear knob is one of the best examples of mass customization of 3D printed parts.
Full Description

Expand design flexibility and avoid warehousing costs with the Shop System. The 3D printing of this custom gear shift knob on the Shop System™ allowed for its manufacturing in a variety of different designs. Moreover, the production costs and manufacturing lead times were significantly reduced.
Specs

Size (mm): 70 x 70 x 32
Cost per part: $86.94
Parts per build: 15
Weekly throughput: 137
Technology/Process

Binder Jetting Technology™
---
Clutch Plate
Manufacturing - Automotive 17-4 PH Stainless Steel
This clutch plate connects an electric motor to the crankshaft to start a motorcycle.
Full Description

By 3D printing this clutch plate, only critical dimensions need to be machined, saving machinist labour, and CNC machine time and reducing part cost. Traditional machining of this part would require multiple setups and multiple machining operations.
Specs

Size (mm): 80 x 80 x 15
Cost per part: $49.57
Parts per build: 29
Weekly throughput: 200
Technology/Process

Binder Jetting Technology™
Technical Specifications
Download the Shop SystemTM technical specs for more information or scroll down to see a list of detailed specifications for the Desktop Metal Shop System, Depowdering Station, and Furnace. Still have questions? Click here to contact our team of product specialists.
3D Printer
The DM Shop 3D printer is available in 4 different build configurations and features one of the highest resolution printheads on the market. This 3D printing system has 70,000 nozzles jetting 1pL droplets at nearly 10 kHZ to achieve high-resolution, metal 3D printed parts at a fraction of the time and cost of laser-based systems and traditional machining processes.
Specs at a Glance
Build Sizes
350 x 220 x 200 mm
350 x 220 x 150 mm
350 x 220 x 100 mm
350 x 220 x 50 mm
Resolution
1600 x 1600 DPI
Footprint
Depowdering Station
The Desktop Metal depowdering station for the Shop 3D printing system provides closed-loop powdered management and recycling. It has easy access portholes, a hand-held air pick, built-in powder sieving and recycling, and a vacuum port for easy powder maintenance.
Specs at a Glance
Powder Management

Built-in powder recovery and sieving
Controlled metering

Sieving Rate
5 KG/hr
Footprint
Furnace
The Desktop Metal Shop System™ furnace was designed to be shop-floor friendly and boasts a high-temperature oven designed for cost-effectively sintering a high-throughput of metal 3D printed parts. Featuring external gas hookup and adjustable shelving, the furnace easily and affordably scales to different volume levels of manufacturing.
Specs at a Glance
Gas
External gas hookup
Peak Temperature
1400°C
Footprint
161.8 x 138.0 x 75.4 cm
(63.7 x 54.3 x 29.7 in)
Shop System™ [The 3D Printer]
3D Printing Technology

3D Printing Technology

Binder-Jetting

Max Build Rate

Max Build Rate

700 cm³/hr

Print direction

Print direction

Unidirectional

Layer height

Layer height

40 – 100 µm

DPI

DPI

1600 DPI
1 pL drop size

Dimensional tolerance of parts

Dimensional tolerance of parts

300 µm or +/- 3.0%

Build Envelope Size

Build Envelope Size

Build envelope options:

4L - 35 x 22.2 x 5 cm (13.8 x 8.7 x 2 in)
8L - 35 x 22.2 x 10 cm (13.8 x 8.7 x 3.9 in)
12L - 35 x 22.2 x 15 cm (13.8 x 8.7 x 5.9 in)
16L - 35 x 22.2 x 20 cm (13.8 x 8.7 x 7.9 in)

External dimensions

External dimensions

Printer 199.4 x 76.2 x 162.6 cm (78.5 x 30 x 64 in)
Powder station 101.6 x 68.6 x 162.6 cm (40 x 27 x 64 in)
Drying oven 66 x 62.2 x 90.2 cm (26 x 24.5 x 35.5 in)
Blender 76.2 x 39.4 x 80 cm (30 x 15.5 x 31.5 in)
Furnace 161.8 x 138.0 x 75.4 cm (63.7 x 54.3 x 29.7 in)

Powder kegs

Height : 280 mm
Diameter : 250 mm
Maximum Volume : 10.6 L


Binder jetting module

Binder jetting module

70K nozzles
5x redundancy

Printhead configuration

Printhead configuration

1 easily replaceable printhead

Power requirements

Power requirements

(excluding furnace and oven) - 110/220 V, 50/60 Hz

Drying Oven - 220 V, 50/60 Hz

Furnace
208 - 220 VAC, 50/60 Hz, 30 A, 3-phase dedicated circuit
380 - 400 VAC, 50/60 Hz, 16 A, 3-phase dedicated circuit