3D Print with Industrial Grade Materials in a 100°C Heated Chamber
The MakerBot Method X is a desktop 3D printing platform powered by Stratasys 3D printing technology and key patents that enable industrial-grade performance, reliability, and materials. Featuring a heated build chamber capable of reaching 100°C, dual-extrusion, and SR-30 soluble support material you can now 3D print with engineering materials like ABS and ASA to build end-use parts, manufacturing tools, functional prototypes, and jigs and fixtures.
A Manufacturing Workstation built for Performance
The MakerBot Method X desktop 3D printer is the product of years of collaboration and testing, leveraging patents from Stratasys and the vision that 3D printing should be accessible and easy. The outcome is a desktop 3D printer that can combine industrial features and performance with the streamlined workflow and operating costs closer to traditional desktop 3D printers to produce the fastest CAD-to-part. With Method X you can print end-use assemblies and manufacturing tools in materials that are common in the manufacturing industry with the peace-of-mind that comes with industrial hardware.
Explore the MakerBot Method X by watching the video
Product Highlights
The MakerBot Method X lets you Print complex and durable parts with a 100°C heated chamber
Application Examples
Tackle projects across your product development process, from prototyping to production.

End-Use Parts
Production-grade materials let you replicate part properties closer to injection molded parts, at a fraction of the cost of traditional methods.

Manufacturing Tools
With manufacturing-ready materials, you can take on projects across the shop floor. Produce dimensionally accurate jigs, fixtures, end-effectors, and other tools to get the job done.

Functional Prototypes
Create rapid prototypes that match the material properties and part dimensions of your end-use products. With Method, you can validate your designs and get to market faster than ever.
MakerBot Method for Business
MakerBot Method for Business is tailored to the needs of fast-paced and demanding organizations looking to eliminate the cost of downtime and prevent missed deadlines. Designed to keep your teams moving seamlessly and without interruption, only MakerBot Method for Business includes our most advanced extended warranty package — MakerCare Platinum Protection
Work for an educational institution? Contact us for special academic discounts.
Built to Perform.
The MakerBot Method X was designed from the ground up to be a desktop solution for tough design, engineering, and manufacturing projects.
21 Onboard Sensors
Wifi Connectivity
Remote Monitoring + Printing
25 Compatible file types
Over 300,000 hours of reliability testing
5″ Full-colour capacitive touch screen
Performance materials
Industrial-grade extrusion systems
Dual-Performance Extruders
Built from the ground up with reliability in mind, the Dual Performance Extruder system can accelerate print times while providing dimensional accuracy consistently. Inside the extrusion system, there are multiple sensors measuring everything from low material to active jam protection, ensuring your prints come out as intended.
19:1 dual drive gear ratio keeps material loaded and ready for reliable extrusion at every layer
Lengthened thermal core
Less than 60-second startup time
One for model, one for soluble support
Circulating Heated Chamber
Experience uncompromised layer adhesion and part strength with the circulating heated chamber on the MakerBot Method desktop 3D printer. A heated built plate only lets you control the adhesion and quality of the first layer, but with full active heat immersion throughout the print, you can control the temperature and quality of every layer.
Reduce warping and layer delamination
Heats the entire duration of the print
2 Chamber heaters
Smart Materials and Storage
With the MakerBot Method's dry-sales material bays, your 3D printing material is stored in an optimized environment to maintain its integrity. With the material kept away from damaging humidity, and with sensors to monitor the environment, you can be confident it will print the way it was intended.
Dry-sealed material bays
Smart sensors for monitoring the environment
2 material bays – 1 model, 1 support
Smart assist material loader
Smart spools monitor color and quantity

Soluble and Dissolvable Support
The Method X can 3D print with both MakerBot's new Water-Soluble PVA material and Stratasys SR-30 soluble support material for use with more industrial thermoplastics like ABS and ASA.
Unrestricted geometric freedom
Great for 3D printing large overhangs, cavities and other complex geometries
Water soluble or for SR-30 soluble with an Ecoworks solution and a support removal station
Superior print quality and surface finish
Designed to work with a range of materials
Built Tough
The ultra-rigid metal frame on the MakerBot Method runs the full length of the system, leaving less opportunity for flexing, and more reliability. With this new robust frame design, you can be confident that your prints will be accurate, with fewer print failures.

Touchscreen Interface
The MakerBot Method has a 5″full-color immersive touchscreen display allowing you to swipe, tap, and print. You can stay up to date with your prints, check the job status, and navigate through the menus with ease.

Smart and Connected
A network of 21 intelligent sensors keeps your MakerBot Method running smoothly and you in control of your print.

Spring Steel Build Plate
The print base is precision calibrated and the spring steel build plate provides unrivaled flatness for part accuracy you can trust. Its flexible design makes removing prints from the printer a breeze.

MakerBot Print
Supporting 25 native CAD file types, remote monitoring and printing, and a streamlined workflow makes MakerBot Print the ideal 3D printing management software to get the most out of your Method X.
3D Printing Materials for MakerBot Method X
MakerBot 3D printing materials for the Method X desktop 3D printer have industrial DNA, manufactured to exacting diameter and quality specifications.  With the Method X platform you have a growing range of material properties to cover applications across the product development lifecycle.
MakerBot Precision Materials
MakerBot Precision materials are extensively-tested giving you peace of mind that your parts will be accurate.
Precision ABS
Precision ASA
Precision Tough
Precision PLA
More to come!
MakerBot Specialty Materials
Specialty materials give you a wider range of material properties for projects that have higher requirements
Specialty PETG
More to come!
MakerBot Support Materials
Designed to make post-processing as seamless as possible
Precision PVA Water-Dissolvable
Stratasys ® SR-30 Soluble
MakerBot Method X Material Compatability Guide
MakerBot Precision Materials for Method
MakerBot Specialty Materials for Method
Materials
Tough (Model)
PLA (Model)
PVA (Support)
ABS (Model)
ASA (Model)
SR-30 (Support)
PETG (Model)
Compatible Printers
METHOD

METHOD X

METHOD

METHOD X

METHOD

METHOD X

METHOD X
METHOD X
METHOD X
METHOD

METHOD X

Compatible Performance Extruder
Model 1
Support 2
Model 1XA
Model 1XA
Support 2XA
Model 1
Dimensional Part Accuracy
± 0.2 mm (0.007 in)
*or ± 0.002 mm per mm of travel whichever is greater
N/A
Print Surface Requirements
Performance Grip Surface (standard)
Adhesion Stick
Colors
Slate Gray

Onyx Black

Stone White

Safety Orange

True Black

True White

Cool Gray

Natural

True Orange

True Red

N/A
Black

White

Red

Orange

Gray

Natural

Black

White

Red

N/A
Natural

Red

Black

Extruder Warranty
6 Months
All 3D Printers Aren't Created Equal
Take a look at how the MakerBot Method stacks up against other popular desktop 3D printing solutions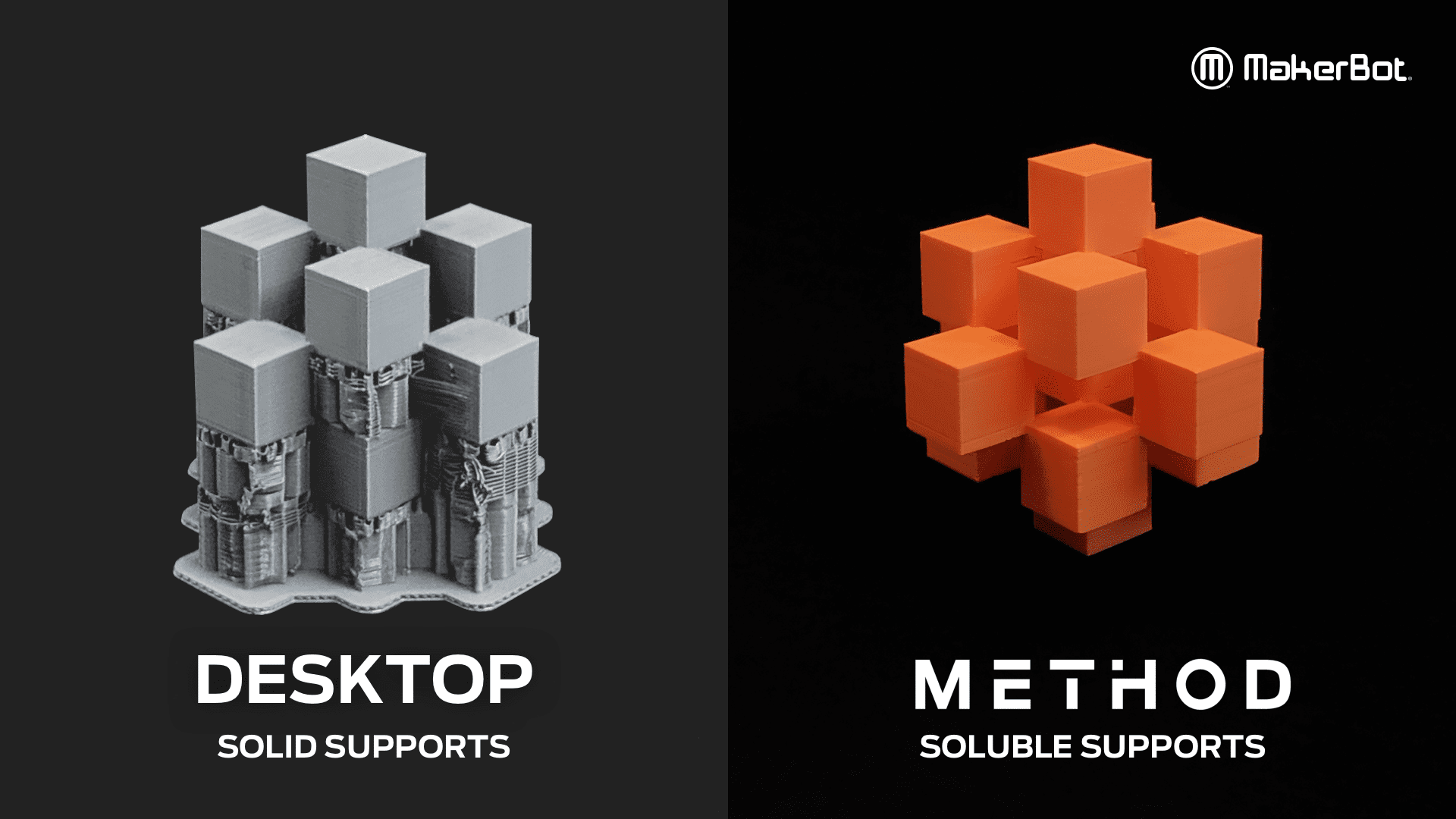 Technical Specifications
Get under the hood of the MakerBot Method X manufacturing workstation.
           
3D Printing + Hardware Specs
Dimensional Accuracy

Dimensional Accuracy

± 0.2mm or ± 0.002 mm per mm of travel (whichever is greater)

Build Speed

Build Speed

Up to 2x times faster than desktop 3D printers when using the same layer height and infill density settings

Max Filament Flow Rate: ~50mm^3 per sec
Print Head Travel Speed: Up to 500 mm/sec

Layer Resolution

Layer Resolution

Maximum Capability: 20 - 400 microns

Print Modes tuned for:
200 microns to provide an optimal balance of high surface quality and quick print time
100 microns for very high surface quality

Maximum Build Volume

Maximum Build Volume

19 L x 19 W x 19.6 H cm / 7.5 x 7.5 x 7.75 in single extrusion
15.2 L x 19 W x 19.6 H cm / 6.0 x 7.5 x 7.75 in dual extrusion

Print Heads

Print Heads

2

Frame Construction

Frame Construction

Aluminum Die Cast base, Extruded Aluminum Uprights, Steel Weldment Gantry Frame

Temperature Control

Temperature Control

Circulating heated chamber

Print Sensors

Print Sensors

Total: 21

Drawers - Temperature, Humidity, Filament Detection, RFID
Performance Extruders - Temperature, Filament Detection, Encoder (Jam Detection)
Lid – Open/Closed
Door – Open/Closed
Heated Chamber – Temperature
Carriage – Calibration


Nozzle Diameter

Nozzle Diameter

0.4 mm

Max Extruder Drive Torque

Max Extruder Drive Torque

200 Newtons through 19:1 gear ratio (3x more pull force than desktop standard)


Extruder Thermal Core Length

Extruder Thermal Core Length

48.2 mm (3x longer than desktop standard)


Display

Display

5" full-color capacitive touchscreen

Build Plate

Build Plate

Spring Steel

Build Surface

Build Surface

Reusable, flexible grip surface

Printer Automation

Printer Automation

Automatic Z Calibration, Automatic XYZ nozzle calibration, Automatic Filament Loading

Filament Storage

Filament Storage

Sealed material bay doors

Camera Resolution

Camera Resolution

640 by 480 pixels

Ambient Operating Temperature

Ambient Operating Temperature

15 - 26º C / 59 - 78º F, 10 - 70% RH non-condensing

Storage Temperature

Storage Temperature

0 - 38º C / 32 - 100º F

Product Dimensions

Product Dimensions

43.7 L x 41.3 W x 64.9 H cm /
17.2 x 16.3 x 25.6 in

Product Weight

Product Weight

29.5 kg / 65 lbs

Shipping Box

Shipping Box

76.5 H x 50.0 W x 55.5 D cm /
30.1 x 19.7 x 21.9 in

Shipping Weight

Shipping Weight

37.1 kg / 81.7 lbs
Model Materials

Model Materials

MakerBot Precision Materials: ABS, ASA, PLA, Tough, more to come
MakerBot Specialty Materials: PETG, more to come

Support Materials

Support Materials

PVA (water-soluble)
SR-30 (requires a specialized Ecoworks solution along with heat and agitation tank for best dissolution results)

Filament Diameter

Filament Diameter

1.75 mm [0.069 in]

Spool Typer

Spool Typer

Smart Spools with RFID tag and sensors for remaining material, material color, material kind

Spool Size

Spool Size

750g (1.65lbs) model, 500g (1.10lbs)

System

System

Open Filament System (Filament Aux Port)
Safety, Electrical, and Compliance
Safety

Safety

Fully Enclosed
Door Safety Switch
Lid Safety Switch

Compliance

Compliance

FCC
EMC
Low Voltage Directive 60950-1, 62368

Power Requirements

Power Requirements

100 - 240 V
8.1A - 3.4A, 50 / 60 Hz
800 W max.

Connectivity

Connectivity

USB Drive, USB, Ethernet, Wi­fi
Software Bundle

Software Bundle

MakerBot Print, MakerBot Mobile

Supported File Types

Supported File Types

MakerBot (.makerbot), STL (.stl), SolidWorks (.sldprt, .sldasm), InventorOBJ (.ipt, .iam), IGES (.iges, .igs), STEP AP203/214 (.step, .stp), CATIA (.CATPart, .CATProduct), Wavefront Object (.obj), Unigraphics/NX (.prt), Solid Edge (.par, .asm), ProE/Creo (.prt, .asm), VRML (.wrl), Parasolid (.x_t, .x_b)

Operating Systems

Operating Systems

Windows (7, 10)
Mac OS X (10.9+)

Warranty

Warranty

Free 1-Year Extended Warranty

Additional Support Plans Available:
MakerCare Gold (2 Years)
MakerCare Platinum (3 Years)