THE STRATASYS
F123 SERIES
Smart, Reliable, and Streamlined Rapid Prototyping for Design Teams
Performance so good, you won't believe it's so easy to use! The Stratasys F123 3D Printer Series demands less knowledge and experience, while meeting even the most advanced rapid prototyping expectations and needs- excelling at all stages of the design prototyping process, from draft-concept iterations – to complex design verification – to high-quality functional prototypes
Smarter Prototyping for your Entire Office
Now there's a more capable, more affordable professional rapid prototyping solution for your entire office—from the leader in 3D printing. The Stratasys F123 series features the F120, F170, F270 & F370 and combines powerful FDM technology with design-to-print GrabCAD software for the most versatile and intelligent solution available. Produce highly accurate and reliable prototypes for concept verification, design validation, and functional performance. Share projects between multiple users without the need for dedicated expert staffing; it's just one more way we shape what's next.
Explore the Stratasys F123 Series by watching the video 
Product Highlights
Stratasys F123 3D Printers aren't just a professional 3D printing resource, they are tools to greatly enhance your business and your ability to conceptualize, develop and manufacture new ideas.
Efficiency
The new F123 features the all-new fast draft mode to produce initial concepts quickly and accurately. Print twice as fast, while consuming a third of the material. With the ability to print in PLA you can maximize printing speeds and minimize costs
Smarter Software
GrabCAD Print software simplifies the entire 3D Printing process with an intuitive application that anyone can use. With detailed reports and remote monitoring, you can easily manage all jobs from outside the office, while seamlessly sharing between users.
User & Office Friendly
The new F123 series is easy to operate and maintain at every level of experience. Every design stage, from prototyping to functional performance is easier than ever. Minimal setup and auto-calibration means less time focused on the machine and more time prototyping.
Stratasys F123 3D Printer Advantages
Learn how the Stratasys F123 Series will put your design ahead of the game.
Versatility & Performance
The F123 Series lets you print everything from fast, low-cost concept models to durable assemblies. It also features the option of up to four different materials along with easy-to-remove support. Creating functional prototypes with multiple layer and build sizes is more efficient than ever before as the system now allows up to twice the throughput at as little as one-tenth the cost.
A New Standard in Reliability
Anyone who has worked with 3D printers before understands the need for reliability. There is nothing worse than setting a print overnight only to come in the next morning to find a mess of thermoplastic where your model should be. With the F123 series, you will experience the industry-leading reliability that Stratasys has become known for. It has been thoroughly tested and packs 30 years of fused deposition modeling patents and know-how to deliver the most reliable 3D printing experience in its class.
Built-In Value
The all-in-one power of the Stratasys F123 Series gives you all-around value as well as many more capabilities. New and improved features save both time and materials. User friendly software doesn't require hiring new employees, while consistent printing drastically reduces waste. The F123 Series features the F170, F270 & F370 with differing material capabilities and build size- allowing you choose the right one for your organization and budget.
The Most Trusted Name in 3D Printing
With 30 years of expertise, 100's of patents, 1000's of hours of testing, and a customer base pushing the limits of what's possible, Stratasys is a key leader in the 3D printing technology world. The Stratasys name guarantees the highest level of reliability and repeatable accuracy. The F120 has all the features and benefits of the other Stratasys high-end professional 3D printers but at an affordable price. Have the Stratasys name behind your printer solution.
Milwaukee Engineering Students Test Elastomer Material
Education
The learning doesn't stop with the Additive Lab Consortium at Milwaukee School of Engineering. Students at the school recently got a chance to test out the new Stratasys TPU 92A 3D printing material on their F123 3D printer. Take a look at some of the advantages the material is bringing to the school and their partners, including 47 manufacturing companies like Kohler, Snap-on Tools and Master Lock.
Milwaukee Engineering Students Test Elastomer Material
3D Printing Management Software
The Stratasys F-Series is powered by GrabCAD Print 3D printing management and workflow software to provide you with a seamless, accessible, and intuitive 3D printing experience. Manage multiple systems, print queues, and always be in the know about what's going on with your project.
A Smooth 3D Printing Workflow

Get the 3D printed parts you want, obstacle-free.

Print directly from CAD
GrabCAD Print allows you to print directly from your favorite
professional CAD formats, saving hours of time usually
spent converting and fixing STL files.

Get started fast
Lean on smart default settings, tooltips, and notifications to
guide you through a seamless printing process.

See what you're making
Work with detailed views of your model, tray, and slice
preview so you can make necessary adjustments before
going to print
Get More from Your 3D Printers

Optimize resources and manage a whole fleet of printers

Organize the Print Queue
Maximize your productivity by scheduling projects based
on machine availability, job duration or other considerations

Track Material Levels
know how much material you have left and how much you
are using to keep projects on track and on budget.

Usage Reports
Analyze material usage, printer history, ad printer utilization
with in-depth reports and dashboards

Stay in the Loop

Email notifications let you know about your print status
HP 3D High Reusability Polypropylene (PP) by BASF
HP 3D High Reusability PP ensures high productivity while minimizing waste due to its excellent chemical and mechanical properties. In addition, this material is able to reuse up to 100% of the unused powder, thus reducing the environmental footprint. From a wide range of applications, from medical to automotive, HP 3D High Reusability PP (polypropylene) opens the path to serial production of fully functional parts.
FDM® TPU 92A Elastomer 3D Printing Material
Introducing Stratasys FDM TPU 92A - an elastomer 3D printing material engineered for prototyping highly functional, large, durable, complex elastomer parts. Optimized for the Stratasys F123 3D printer series, you can now produce elastomer parts that elongate and compress with an easier workflow. With truly soluble support material you can produce parts that have curves, overhangs, and cavities without having to worry about extensive post-processing, or printing fails. See what's possible with elastomers, get started with a project today.
ABS-M30
ABS-M30 is up to 25-70% stronger than standard ABS and is ideal for conceptual modeling, functional prototyping, manufacturing tools and end-use parts. Bring your product to market faster with this strong and affordable material.
ASA
Now you can build consistently high-quality parts, with exceptional UB stability and the best aesthetics of any FDM thermoplastic printing material.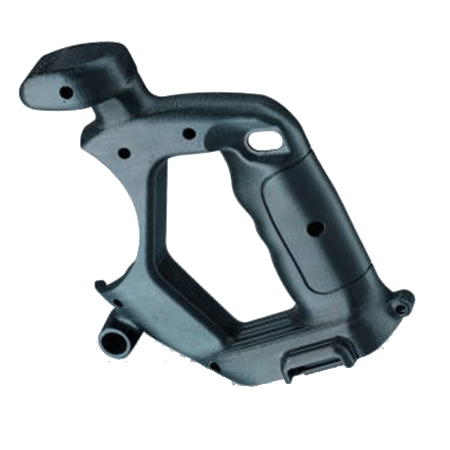 PC-ABS
PC-ABS (polycarbonate-ABS) is a tough, durable, and heat-resistant 3D printing material from Stratasys. It is a high-impact engineering thermoplastic designed to work with FDM (Fused Depostiion Modeling) 3D printing technology and perfect for producing tooling, prototypes, and end-use parts or when heat-resistance and impact strength are important.
| | | | | |
| --- | --- | --- | --- | --- |
| Material | F120 | F170 | F270 | F370 |
| PLA (Polylactic Acid) | | | | |
| ABS (Acrylonitrile Butadiene Styrene) | | | | |
| ASA (Acrylonitrile Styrene Acrylate) | | | | |
| TPU 92A (Thermoplastic Polyurethane) | | | | |
| PC-ABS (Polycarbonate Acrylonitrile Butadiene Styrene) | | | | |
| Soluble Support | SR-30 | SR-35 | SR-35 | SR-35 |
Build Tray Size

Build Tray Size

F170: 25.4 x 25.4 x 25.4 cm [10 x 10 x 10 in]

F270: 30.5 x 25.4 x 30.5 cm [12 x 10 x 12 in]

F370: 35.5 x 25.4 x 35.5 cm [14 x 10 x 14 in]


Layer Thickness

Layer Thickness

0.330 mm [0.013 in]
ABS, ASA, PC-ABS

0.254 mm [0.010 in]
PLA, ABS, ASA, PC-ABS

0.178 mm [0.007 in]
ABS, ASA, PC-ABS

0.127 mm [0.005 in]
ABS, ASA, PC-ABS

Accuracy

Accuracy

XY part accuracy
+/- .010" up to 5 inches +/- .002 in/in above 5 inches

Z part accuracy
+/- .010" +/- .001in/inches

Material Options

Material Options

F170: PLA, ABS-M30, ASA, TPU

F270: PLA, ABS-M30, ASA, TPU

F370: PLA, ABS-M30, ASA, PC-ABS, TPU

Power Requirements

Power Requirements

100–132V/15A or 200–240V/7A. 50/60 Hz

Network

Network

Wired: TCP/IP protocols at 100MBPS minimum 100 base T, Ethernet protocol, RJ45 connector

Wireless: IEEE 802.11n, g, or b; Authentication: WPA2-PSK, 802.1x EAP; Encryption: CCMP, TKIP

System Size & Weight

System Size & Weight

64 x 34 x 28 inches

500 lbs [227 kg] with consumables
Print with Precision & Confidence
The Stratasys F123 Series lets you print everything from fast, low-cost concept models to durable assemblies. And the Stratasys F123 Series gives the option of up to four different materials, along with our easy-to-remove soluble support material.* Create complex parts and assemblies with no compromise on accuracy, detail and repeatability. Even for your earliest design iterations, you can expect Stratasys quality and dependability.