FDM TPU 92A is an elastomer made by Stratasys which was engineered for prototyping highly functional, large, durable complex elastomer parts. Optimized for the Stratasys F123 3D printer series, you can now produce elastomer parts that elongate and compress with an easier workflow. With truly soluble support material you can produce parts that have curves, overhangs, and cavities without having to worry about extensive post-processing, or printing fails. See what's possible with elastomers, get started with a project today. The strong, reliable elasticity of FDM TPU 92A materials makes it the number one choice for a wide range of applications; some of which include hoses, tubes, air ducts and vibration dampeners.
Cost Analysis
Let's take a deeper dive into a smarter approach, with a lower cost. Rather than adding restrictions, 3D printing should free you from design constraints. Now, you hold the ability to reduce prototype-to-production cycle, all for a lower total cost-per-part. This is what elastomer on the F123 Series, F170, F270 AND F370 Professional 3D Printers deliver.
There's no competition when it comes to this material. With stronger, more flexible attributes, the competition is beat on every key measure. Elastomer parts aren't worth the material they're printed with if they do not meet quality standards.
Elastomer parts on the F123 Series elongate tp 500%, whereas Stratasys' nearest competitor failed at about 350%.
The F123 Series came on top again, hitting 92 Shore A hardness time and time again. Stratasys' lowest-scoring competitor managed a 56 Shore A, whereas the highest was between 88-92.
Half the competition tested were not able to print flexible parts whatsoever. The best managed was 1450 psi, compared to the 5455 psi that can be achieved on the F123 Series.
These smarter materials are the key to an average of 39% lower cost per part. It seems obvious, the lower cost of the material, the lower cost of a part. However, this is not quite the case. Removing support is delicate, labour-intensive work. When considering the total cost, the F123 Series beats the competition on every part; from the simplest to the most complex.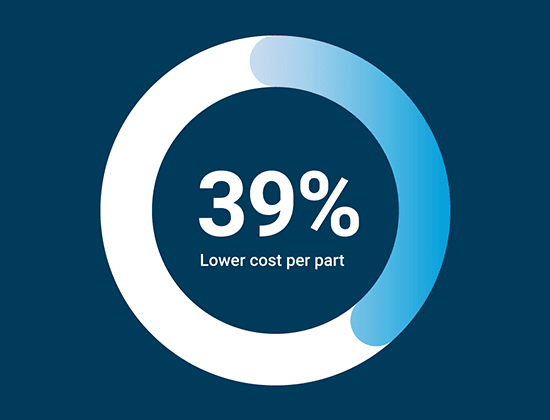 Labour costs reduced by 76%! There's no other manufacturer that offers soluble support, which is why Stratasys' closest competitor is $50 more expensive for labour, even when it comes to a very easy, simple part, where a complex part can be as costly as $65. When selecting the most expensive competitor, the gap can stretch up to $100.
Combining material and labour brings costs down by 39%. Plug-and-play usability, along with the savings of using soluble support are just two reasons why it's only $42 to print a sample part on the F123 Series. Now I bet you're wondering, what about the nearest competitor? $77! Complex parts repeat the same story, and that is that the F123 Series prints for $79, where the next competitor is $110.
Support Materials
Most additive manufacturing methods stop dead once they've encountered complex geometries, thin walls, or cavities. Rather than having to go through the above process, print complex parts with an easily removed support material – eliminating time-consuming and costly post-processing.
The elastomer on the F123 Series is a faster, smarter way to design the exact part you require without compromise – thanks to exclusive soluble support.
Build as large, or as complex as you wish. Once your part is ready, the support structure can simply be washed away.
Finally, a better solution for creating large, complex parts with curves, overhangs and cavities. Thanks to elastomer on the F123 Series, design small, simple forms, and everything in between with excellent durability and superb elongation.
The above is known as rapid prototyping without workarounds. This is a truly integrated workflow system, combining a rapid-change extrusion head, elastomer material and very simple software.
Smarter Prototyping with the Stratasys F123 Series
Complete the form to access our whitepaper about how you can rapid prototype smarter and more effectively with a reliable 3D printer.